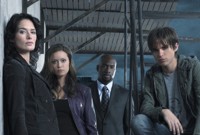 Após programar as estréias de "Pushing Daisies" e "The L Word" para abril, o Warner Channel já prepara as novidades para sua "midseason" (meio de temporada). Serão duas novas séries — "Terminator: The Sarah Connor Chronicles" e "Big Shots" — e duas novas temporadas — "The New Adventures of Old Christine" e "Pussycat Dolls Present: Girlicious".
A primeira a chegar é a 3ª temporada de "The New Adventures of Old Christine", na terça, 06 de maio, às 20h30. No episódio de estréia, Christine (Julia Louis-Dreyfus) e o Sr. Harris (Blair Underwood, "Dirty Sexy Money") finalmente estão prontos para consumar o relacionamento deles — até que Barb (Wanda Sykes) diz algo que dá à Christine um motivo para se preocupar. E Matthew (Hamish Linklater) reconsidera sua decisão de fazer medicina após descobrir que o cadáver que ele utilizará nas aulas é de um ex-vizinho dele. No decorrer dos 10 episódios da temporada, também veremos Christine saindo com um homem bem mais jovem do que ela e experimentando maconha, além dos retornos dos convidados Andy Richter e Dave Foley ("Celebrity Poker Showdown", "NewsRadio").
Com média de 9,669 milhões de telespectadores, "The New Adventures of Old Christine" ainda não foi renovada, mas seu prognóstico é bom.
Logo depois, às 22h, é a vez da aguardada estréia de "Terminator: The Sarah Connor Chronicles", série baseada na franquia de filmes "O Exterminador do Futuro". No final de "O Exterminador do Futuro 2: O Julgamento Final", Sarah Connor derrotou o Exterminador que foi mandado do futuro para matar o filho de 15 anos dela, John. Sarah (Lena Headey, "300") e John (Thomas Dekker, "Heroes", "7th Heaven") agora se vêem sozinhos num mundo perigoso e complicado. Fugitivos da lei, eles são confrontados com a realidade de que mais inimigos do futuro e do presente poderão atacá-los a qualquer momento. Sarah pára de fugir e decide reagir contra os inimigos que sempre estão evoluindo tecnologicamente e estão determinados a destruir a vida dela — e talvez o mundo. John sabe que ele talvez seja, no futuro, o salvador da raça humana, mas ele ainda não está pronto para assumir a liderança que lhe foi dita que seria o seu destino. A única amiga de John é Cameron (Summer Glau, "Firefly"), uma enigmática aluna da escola dele, que provará ser uma destemida protetora dele e de Sarah. E eles também terão um poderoso aliado no inteligente e agressivo agente do FBI James Ellison (Richard T. Jones, "Ally McBeal", "NYPD Blue"). O elenco secundário traz ainda Brian Austin Green ("Freddie", "Beverly Hills, 90210").
"Terminator: The Sarah Connor Chronicles" é uma interessante reinvenção da franquia de "O Exterminador do Futuro". A 1ª temporada, que teve apenas 9 episódios, estreou em janeiro nos EUA com uma audiência de 18,36 milhões de telespectadores, mas viu seu público cair para uma média de 10,699 milhões. Apesar disso, a série é o segundo drama mais assistido da Fox americana (atrás apenas de "House"), e tem boas chances de ser renovada.
Na quarta, 07 de maio, às 22h, estréia o novo drama "Big Shots". Com um elenco estrelar, a série é focada em quatro competitivos empresários de Nova York que procuram refúgio na amizade deles, discutindo negócios, confidenciando segredos, pedindo conselhos e apoiando uns aos outros nas reviravoltas e altos e baixos da vida. James Walker (Michael Vartan, "Alias") é o centro moral do grupo, mas sua vida profissional quase desmorona por um instante, graças à uma reestruturação nas Indústrias AmeriMart e uma revelação surpreendente sobre sua mulher. Brody Johns (Christopher Titus, "Titus") é o vice-presidente da Alpha Crisis Management, mas ele sabe que sua mulher irá julgá-lo apenas pela organização da festa de aniversário dela. Karl Mixworthy (Joshua Malina, "The West Wing") é o doce e muitas vezes estressado presidente de uma grande empresa farmacêutica que tem uma mulher adorável — e uma amante que começa a monopolizar todo o tempo livre que ele consegue ter. E Duncan Collinsworth (Dylan McDermott, "O Desafio") é o sexy e divorciado presidente da Cosméticos Reveal que descobre que sua vida pessoal está ameaçada por rumores de uma indiscrição (verdadeira) que poderá acabar com tudo o que ele já conquistou.
Entre as mulheres nas vidas destes poderosos homens estão Lisbeth (Paige Turco, "Rescue Me", "The Agency", "Party of Five"), a ex-mulher de Duncan; Cameron Collinsworth (Peyton List, "Day Break", "Windfall"), a filha de 19 anos de Duncan; Marla (Jessica Collins, "The Nine", "Tru Calling"), a amante de Karl; Wendy (Amy Sloan, "Gilmore Girls), a esposa de Karl; e Katie Graham (Nia Long, "Boston Legal", "Third Watch"), a "esposa do trabalho" de James.
Criada por Jon Harmon Feldman ("Reunion", "Tru Calling", "American Dreams"), "Big Shots" teve apenas 11 episódios produzidos devido à greve dos roteiristas, que foram vistos por 7,728 milhões de telespectadores, fazendo com que a série fosse cancelada pelo canal americano ABC. Entre os convidados especiais, veremos Charisma Carpenter ("Angel", "Veronica Mars"), Emmanuelle Vaugier ("C.S.I.: New York"), Elizabeth Rohm ("Law & Order") e Richard Burgi ("Desperate Housewives", "The Sentinel").
E no domingo, 11 de maio, às 19h, "Pussycat Dolls" retorna com sua 2ª temporada. Dessa vez, Robin Antin, a criadora das Pussycat Dolls, não vai escolher uma nova garota para se unir ao grupo: ela vai montar um novo grupo feminino chamado "Girlicious", que terá um visual, um som e uma atitude bem diferente do grupo original. As competidoras serão avaliadas por Antin e seus colegas jurados — Ron Fair, o presidente da gravadora Geffen Records, e a cantora Lil' Kim. As quinze finalistas terão a ajuda do coreógrafo Mikey Minden, e do técnico de vocal Kenn Hicks, que já trabalhou com Jennifer Lopez e as Spice Girls. A apresentação do programa novamente ficará a cargo de Mark McGrath ("Sugar Ray").
Entre os convidados especiais estão Nelly Furtado, Nicole Scherzinger, JC Chasez ("'N Sync") e, é claro, as Pussycat Dolls. No final dos 10 episódios, o novo grupo será formado e as garotas vão gravar um novo álbum, um vídeo clipe e iniciam uma turnê. O segundo ano do reality show estreou em fevereiro nos EUA, onde não foi muito bem recebido pelo público, conquistando uma média de apenas 1,752 milhão de telespectadores, quase metade dos 3,036 milhões da temporada passada.
Texto baseado do site SériesOnline.

Assunto(s):
Outros

Seriado(s) relacionado(s):

Receba nossas publicações por e-mail:

DEIXE SEU COMENTÁRIO (VIA FACEBOOK)
Não tem Facebook? Use o formulário abaixo:
Quer ter sua foto ao lado do comentário? Cadastre-se no Gravatar!
ATENÇÃO:
Toda e qualquer mensagem publicada através do sistema de comentários não reflete a opinião deste site ou de seus autores. As opiniões enviadas através deste sistema são de exclusiva e integral responsabilidade dos visitantes que dele fizerem uso.