SINOPSE
Quando um motorista embriagado é o responsável pelo acidente de carro que matou os pais da família Salinger, os cinco irmãos que ficam órfãos precisam se unir para garantir a própria sobrevivência e dar continuidade aos negócios da família.
Charlie é o irmão mais velho, a figura responsável, que busca formas de impedir que o restaurante da família vá à falência. Bailey é um adolescente alcoólatra, tem problemas de socialização e acaba por arranjar muitos problemas, pois quase sempre está bêbado e não tem muito senso de responsabilidade.
Julia é a típica adolescente, com seus problemas amorosos, sempre com dificuldades para decidir sobre a própria vida. Claudia ainda é uma criança quando seus pais morrem. Além de estudar, Claudia é uma talentosa — e negligenciada — violinista. Ela ajuda a cuidar de Owen, o irmão mais novo, ainda um bebê.
"Party of Five" é um drama familiar com a intenção de refletir a realidade de muitas famílias. Como lidar com a chegada da vida adulta e das responsabilidades que ela traz sem a figura dos pais?
ELENCO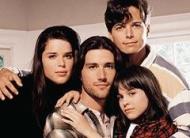 Matthew Fox
(Charlie Salinger)

Scott Wolf
(Bailey Salinger)

Neve Campbell
(Julia Salinger)

Lacey Chabert
(Claudia Salinger)

Jacob Smith
(Owen Salinger)

Paula Devicq
(Kirsten Bennet Thomas Salinger)

Jennifer Love Hewitt
(Sarah Reeves Merrin)

Jennifer Aspen
(Daphne Jablonsky)

Jeremy London
(Griffin Chase Holbrook)

Scott Grimes
(Will McCorkle)

Michael Goorjian
(Justin Thompson)
MÚSICA DE ABERTURA

"
Closer To Free
", de BoDeans
Audio clip: Adobe Flash Player (version 9 or above) is required to play this audio clip. Download the latest version here. You also need to have JavaScript enabled in your browser.
Everybody wants to live, like they want to live
And everybody wants to love, like they want to love
Everybody wants to be, closer to free
Closer to free
NO BRASIL




* Aqui estão listadas as emissoras que já exibiram o seriado no Brasil, o que não significa que, atualmente, estes canais estejam transmitindo o programa. Para mais informações clique no canal desejado e consulte o guia de programação.
VÍDEO ABERTURA
SPIN-OFF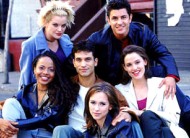 "
Time of Your Life
"
Sarah Reeves passa anos sem as respostas para as perguntas sobre sua adoção. Ela decide descobrir mais sobre o seu misterioso passado. Na chegada em Nova York, Sarah terá que desistir de tudo o que ela sabe e ama, inclusive de seu namorado Bailey Salinger...

Leia mais