SINOPSE
Mesmo para um morto-vivo, há vida depois do amor. Podemos dizer que esse foi o pontapé inicial para a série "Angel", um
spin-off
(série derivada) de "
Buffy, The Vampire Slayer
". Angel deixou Buffy e foi embora de Sunnydale em busca de novas intrigas sobrenaturais semeadas nos becos de Los Angeles.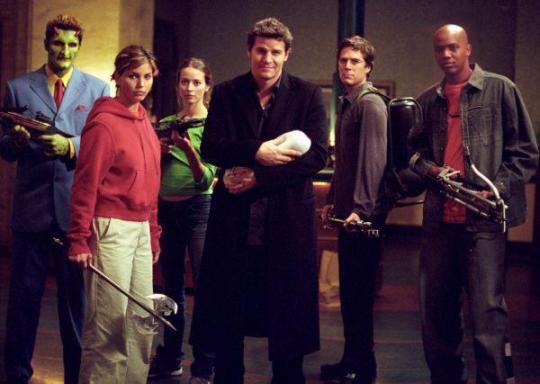 A sempre petulante Cordelia também se mudou para Los Angeles, para tentar a sorte como atriz. Sempre dando as ordens para Angel está Doyle, um ser que é meio-demônio e meio-"irlandês", e que na verdade gostaria era de estar jogando e bebendo. O trio abriu uma agência de detetives e começa a investigar vários casos pelas ruas de Los Angeles.
"O que me animou para produzir esta série foi o caráter de Angel, de alguém que precisa desesperadamente de redenção para seu passado de maldades", disse o produtor executivo e criador de "Buffy, The Vampire Slayer", Joss Whedon. "A série não é sobre os costumes da adolescência (como em "Buffy") e sim sobre o que você fez da sua vida". Se você pensa que a toda a história é sobre melancolia e angústia, Whedon desmente: "Temos ainda muito humor e romances".
ORIGEM

"
Buffy, The Vampire Slayer
"
ELENCO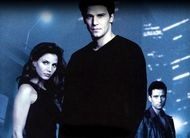 David Boreanaz
(Angel)

Charisma Carpenter
(Cordelia Chase)

Alexis Denisof
(Wesley Wyndham-Pryce)

J. August Richards
(Charles Gunn)

Amy Acker
(Winifred "Fred" Burkle)

Vincent Kartheiser
(Connor)

Stephanie Romanov
(Lilah Morgan)
MÚSICA DE ABERTURA

Instrumental
Audio clip: Adobe Flash Player (version 9 or above) is required to play this audio clip. Download the latest version here. You also need to have JavaScript enabled in your browser.