Após um longo período de entressafra — foram seis meses e meio com reprises e apenas estréias de séries de curta duração — o AXN começa sua nova temporada logo depois do carnaval. Serão nada menos do que sete novas temporadas e duas novas séries.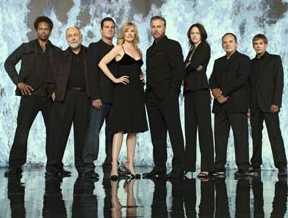 A nova programação começa na segunda, 11 de fevereiro, com a tão aguardada estréia da 8ª temporada de "C.S.I.: Crime Scene Investigation", às 20h. Agora os fãs da série finalmente poderão saber qual o destino de Sara (Jorja Fox) após o enigmático final da 7ª temporada, que foi exibido no início de julho de 2007 no Sony, com a conclusão da história do assassino das miniaturas. Após as complicadas negociações para a renovação do contrato de Jorja Fox, que foram mal sucedidas, a atriz deixa a série no sétimo episódio da temporada, intitulado "Adeus e Boa Sorte". A equipe ganha uma nova agente em treinamento, Ronnie (Jessica Lucas, "life as we know it"), que, inicialmente, deve participar de apenas quatro episódios. Um dos momentos mais aguardados é o crossover (episódio que mistura duas séries ao mesmo tempo) com "Without a Trace". A história começa em "C.S.I.", com Grissom (William Petersen) e a equipe unindo-se ao agente do FBI Jack Malone (Anthony LaPaglia), para prender um serial killer, e continua em "Without a Trace", quando Grissom acompanha Jack no restante da investigação em Nova York — o segundo episódio já foi exibido pelo canal Warner no Brasil. Além disso, um dos episódios terá ainda a participação de Harold Perrineau Jr. ("Lost").
Logo depois, o canal continua reprisando a 3ª temporada de "Lost", já que a nova temporada da série, que começa no dia 31 de janeiro nos Estados Unidos, ainda não tem previsão de estréia por aqui.
Na terça, 12/02, será a vez das novatas "Dirty Sexy Money" (20h) e "Damages" (21h).
Com elenco estrelar, o drama "Dirty Sexy Money" é centrado em Nick George (Peter Krause, "Six Feet Under"), um advogado idealista que, após a suspeita morte de seu pai, se vê assumindo o papel dele como o advogado particular — e protetor dos segredos — dos Darlings, uma rica e poderosa família de Nova York. O patriarca, Tripp (Donald Sutherland, "Commander in Chief"), é dono de diversas propriedades ao redor do mundo e, enquanto leva uma vida luxuosa ao lado de sua bela esposa, tenta controlar seus cinco filhos problemáticos: Patrick (William Baldwin), que trabalha como promotor e tem uma namorada transexual; Karen (Natalie Zea, "Eyes"), uma socialite que controla a fundação da família; Brian (Glenn Fitzgerald, "Six Feet Under"), um padre que tem um filho bastardo; a mimada Juliet (Samaire Armstrong, "The O.C."), que tenta ser levada à sério como atriz; e Jeremy (Seth Gabel), que vive de ressaca e acredita que sua vida não pode ser pior do que isso. Produzida por Greg Berlanti ("Brothers & Sisters", "Jack & Bobby", "Everwood"), "Dirty Sexy Money" é uma das séries estreantes da temporada 2007/08 mais bem recebidas pela crítica americana e já garantiu a produção de sua temporada completa.
Ambientada no mundo dos mais importantes processo da cidade de Nova York, "Damages" é centrada em Patty Hewes (Glenn Close, "The Shield"), a advogada mais respeitada e odiada da cidade, e em sua protegida, Ellen Parsons (Rose Byrne). Após Patty escolher Ellen para trabalhar em seu poderoso escritório de advocacia, a vida nunca mais será a mesma para ambas. Ellen, que ficou recentemente noiva, está muito contente por ter entrado na firma e ser treinada por Patty e o sócio dela, Tom Shayes (Tate Donovan, "The O.C."). Mas Ellen logo descobrirá que o preço do sucesso talvez seja muito mais alto do que ela esperava pagar. Atualmente, o principal caso da firma é um processo coletivo contra o supostamente corrupto Arthur Frobisher (Ted Danson, "Becker", "Cheers"), um dos mais ricos executivos dos EUA. Patty, em nome de seus clientes, está tentando deixar Frobisher falido e destruir a vida pessoal dele. No elenco também estão Zeljko Ivanek ("24 Horas") e Peter Facinelli ("Fastlane"). Bem recebida pela crítica e com uma audiência boa para o canal pago americano FX, "Damages" foi renovada para mais duas temporadas, e recebeu quatro indicações ao Globo de Ouro 2008, incluindo a categoria de Melhor Série Drama.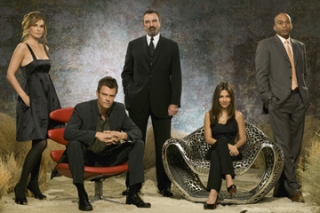 "Las Vegas" começa sua 5ª temporada na quarta, 13/02, às 20h. Com as saídas de James Caan e Nikki Cox, a série retorna repaginada com a chegada do veterano Tom Selleck ("Magnum, PI") ao elenco, como A. J. Cooper, um misterioso homem que assume o comando como o novo dono do Montecito. No episódio de estréia, o caos toma conta do cassino enquanto a equipe tenta descobrir quem matou o pai de Mary (Nikki Cox), se um dos funcionários está por trás de um roubo no Montecito e Sam (Vanessa Marcil) tenta escapar de seus seqüestradores.
Em seguida, é a vez do 6º ano de "C.S.I.: Miami". A grande novidade desta vez é que Horatio (David Caruso) tem um filho. "No episódio de estréia, teremos três suspeitos, ex-prisioneiros em liberdade condicional. Um deles, iremos descobrir que é o filho dele. Será muito interessante a forma como os telespectadores e Horatio descobrirão a realidade desta situação", diz o co-produtor executivo Sunil Nayar. Mas o grande evento promete ser o inesperado retorno de Speedle (Rory Cochrane), quando os CSIs suspeitam que o ex-membro da equipe talvez não esteja morto. E entre os convidados especiais estão Dean Cain ("ClubHouse", "Lois & Clark"), Dina Meyer ("Point Pleasant", "Birds of Prey"), Leslie Hope ("Runaway", "24 Horas"), William R. Moses ("Melrose Place"), Tia Texada ("Relic Hunter") e Elizabeth Berkley ("Showgirls"), como a ex-mulher de Horatio.
Já na quinta, 14/02, a partir das 20h, "C.S.I.: New York" retorna com sua 4ª temporada, que começa com a equipe investigando um crime na Estátua da Liberdade. Mac (Gary Sinise) retorna de Londres e revela um interessante segredo que terá um importante papel na temporada. O romance de Danny (Carmine Giovinazzo) e Lindsay (Anna Belknap) fica mais sério. E Kerr Smith ("Justice", "Dawson's Creek") terá um papel regular como um especialista em documentos forjados que poderá ser o novo namorado de Stella (Melina Kanakaredes).
Às 21h é a vez do 7º ano de "Law & Order: Criminal Intent". Uma das novidades será a chegada de Alicia Witt ("Cybill") como Nola Falacci, a nova parceira do detetive Mike Logan (Chris Noth), pelo menos até o fim da licença maternidade da atriz Julianne Nicholson. Na estréia os detetives Robert Goren (Vincent D'Onofrio) e Alexandra Eames (Kathryn Erbe) investigam a morte de um policial durante um tiroteio, e Eames encontra uma ligação com o assassinato de seu marido há oito anos. Entre os convidados especiais estão Amy Acker ("Alias", "Angel"), Peter Coyote ("The 4400", "Commander in Chief"), Cynthia Watros ("Lost") e Peri Gilpin ("Frasier").
Na sexta, 15/02, "Criminal Minds" estréia sua 3ª temporada às 20h. Após a saída de Mandy Patinkin, que retorna apenas numa breve cena para explicar a partida de seu personagem, os produtores escalaram Joe Mantegna ("The Starter Wife", "Joan of Arcadia") para comandar a equipe da BAU. Segundo o produtor executivo Chris Mundy, "toda a premissa da série será abalada pelos acontecimentos do final da temporada passada". No primeiro episódio, Hotch (Thomas Gibson) pede transferência, Prentiss (Paget Brewster) se demite e com Gideon (Patinkin) desaparecido, apenas os três membros restantes da equipe tentam prender um serial killer que seqüestra mulheres em locais públicos. Os convidados da temporada incluem Meredith Monroe ("Dawson's Creek"), Eddie Cibrian ("Vanished", "Invasion", "Third Watch"), Nicholas Brendon ("Kitchen Confidential", "Buffy"), Jamie Kennedy ("The Jamie Kennedy Experiment"), Frankie Muniz ("Malcolm") e Jayne Atkinson ("24 Horas").
E, mais tarde, às 21h, começa a exibição do 5º ano de "NCIS". Após os problemas nos bastidores entre o astro Mark Harmon e o criador Donald P. Bellisario, que resultaram na saída de Bellisario do comando da série, o drama criminal retorna em alta e comemorando a marca de 100 episódios. "Um dos principais personagens enfrenta um situação muito perigosa. Há uma grande explosão e alguém é morto. Será algo muito chocante", diz o produtor executivo Shane Brennan.
Com a greve dos roteirista americanos, as séries terão uma temporada reduzida. Enquanto "Criminal Minds", "C.S.I.: Miami" e "Dirty Sexy Money" terão 13 episódios, "C.S.I." e "NCIS" terão 11 episódios, "C.S.I.: New York" terá 14 episódios e "Law & Order: Criminal Intent" apenas 10. Já "Las Vegas" teve 19 de seus 22 episódios para a temporada produzidos. E "Damages" já teve toda a temporada exibida nos EUA, com 13 episódios.
Texto do site SériesOnline.

Receba nossas publicações por e-mail:

DEIXE SEU COMENTÁRIO (VIA FACEBOOK)
Não tem Facebook? Use o formulário abaixo:
Quer ter sua foto ao lado do comentário? Cadastre-se no Gravatar!
ATENÇÃO:
Toda e qualquer mensagem publicada através do sistema de comentários não reflete a opinião deste site ou de seus autores. As opiniões enviadas através deste sistema são de exclusiva e integral responsabilidade dos visitantes que dele fizerem uso.