SINOPSE
Sam Malone é um jogador aposentado do Boston Red Sox e ex-alcoólatra, proprietário do Cheers, o bar mais famoso do bairro. Sam tem como principais características o fato de ser meio "galinha" e de ser obcecado por seu cabelo.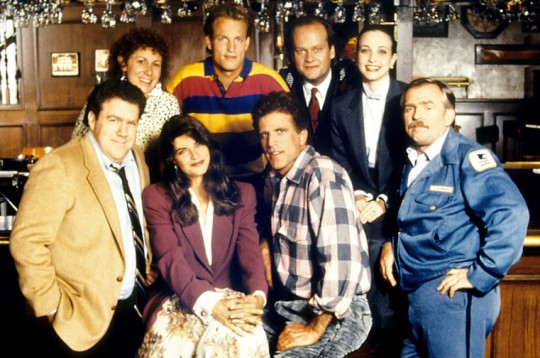 Coach é um dos atendentes do bar. Carla é uma sarcástica garçonete, e Diane é sua parceira de profissão, a própria "faz tudo". Sam e Diane levam uma relação de altos e baixos. Frasier é um psiquiatra excêntrico que frequenta o bar e sempre acaba por aconselhar alguém com problemas.
Embora o ambiente seja um bar, a série trata dos assuntos entre amigos, relacionamentos, neuras, entre outras coisas. Diane foi namorada de Frasier e chegou a deixá-lo no altar, pois amava Sam. Sam acabou vendendo o bar, mas fez de tudo para comprá-lo de volta.
Após a partida de Diane e a chegada de Rebecca, Sam fez de tudo para levá-la pra cama, mas nunca foi feliz com suas tentativas, Rebecca sabia muito bem da reputação de Sam e não queria ser mais uma em sua lista (sim, ele tinha uma lista).
CURIOSIDADES

"Cheers" introduziu o personagem de Frasier Crane ao mundo. Quando a série foi cancelada, em 1993, os produtores resolveram que Frasier deveria continuar sua trajetória e criaram a série "
Frasier
", sobre o personagem que, por coincidência, também durou 11 temporadas.

Nicholas Colasanto foi substituído por Woody Harrelson a partir da 4ª temporada, devido à morte precoce do ator.
ELENCO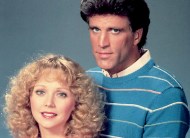 Ted Danson
(Sam "Mayday" Malone)

Rhea Perlman
(Carla Victoria Angelina Teresa Apollonia Lozupone Tortelli LeBec)

George Wendt
(Norm Peterson)

John Ratzenberger
(Clifford "Cliff" C. Clavin Jr.)

Woody Harrelson
(Woodrow "Woody" Tiberius Boyd)

Kelsey Grammer
(Dr. Frasier W. Crane)

Kirstie Alley
(Rebecca Howe)

Bebe Neuwirth
(Dr. Lilith Sternin-Crane)

Shelley Long
(Diane Chambers)

Nicholas Colasanto
("Coach" Ernie Pantuso)
MÚSICA DE ABERTURA

"
Where Everybody Knows Your Name
", de Gary Portnoy
Audio clip: Adobe Flash Player (version 9 or above) is required to play this audio clip. Download the latest version here. You also need to have JavaScript enabled in your browser.
Making your way in the world today takes everything you've got
Taking a break from all your worries sure would help a lot
Wouldn't you like to get a way?
Sometimes you wanna go
Where everybody knows your name
And they're always glad you came
You wanna be where you can see, all troubles are all the same
You wanna be where everybody knows your name
You wanna go where people know, people are all the same
You wanna go where everybody knows your name
NO BRASIL

* Aqui estão listadas as emissoras que já exibiram o seriado no Brasil, o que não significa que, atualmente, estes canais estejam transmitindo o programa. Para mais informações clique no canal desejado e consulte o guia de programação.
VÍDEO ABERTURA