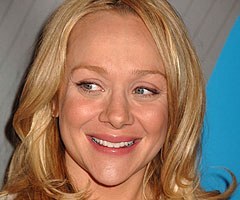 "Rita Rocks" é o nome da nova série, cuja protagonista será Nicole Sullivan. A atriz ficou conhecida por seu trabalho na série "The King of Queens", onde interpretou Holly, a passeadora de cães que foi contratada para passear com Arthur (Jerry Stiller). Sullivan também tem no currículo a fracassada "Hot Properties", onde contracenou com Gail O'Grady ("American Dreams") e Evan Handler ("Californication").
O projeto é do canal americano Lifetime e a trama gira em torno de uma mãe de família que entra numa crise de meia-idade e, ao lado de sua carteira (Tisha Campbell-Martin, "My Wife & Kids") e do seu vizinho (Ian Gomez, "Felicity") resolve montar uma banda de rock. Além disso, a série contará com a participação de Richard Ruccolo ("Two Guys and a Girl"), Raviv Ullman ("Phil of the Future") e Kelly Gould.
Nicole Sullivan, no entanto, teve outro fracasso na TV. "Raines" foi uma série produzida pelo canal NBC, onde contava com Nicole no elenco, ao lado de Matt Craven ("The Lyon's Den") e Jeff Goldblum ("Will & Grace"). "Raines" estreou em 15 de março de 2007 e teve apenas 7 episódios produzidos.
O piloto de "Rita Rocks" foi escrito por Jim Berg e Stan Zimmerman ("Gilmore Girls").
A experiência da Lifetime com comédias não é muito boa. Depois do fiasco de "Lovespring International", produzida por Eric McCormack ("Will & Grace"), que teve apenas 12 episódios, sendo que o último nunca foi ao ar nos Estados Unidos, o canal resolveu arrancar algumas risadas com reprises de "Will & Grace" e "The Golden Girls".

Receba nossas publicações por e-mail:

DEIXE SEU COMENTÁRIO (VIA FACEBOOK)
Não tem Facebook? Use o formulário abaixo:
Quer ter sua foto ao lado do comentário? Cadastre-se no Gravatar!
ATENÇÃO:
Toda e qualquer mensagem publicada através do sistema de comentários não reflete a opinião deste site ou de seus autores. As opiniões enviadas através deste sistema são de exclusiva e integral responsabilidade dos visitantes que dele fizerem uso.