SINOPSE
Felicity Porter, uma adolescente que acaba de se formar no colégio, resolve ir para a Universidade de Nova York, após descobrir que Ben Covington, seu grande amor platônico, vai estudar lá. A decisão da garota irrita seus pais, que não concordam com a ideia de ter a filha morando sozinha numa cidade grande.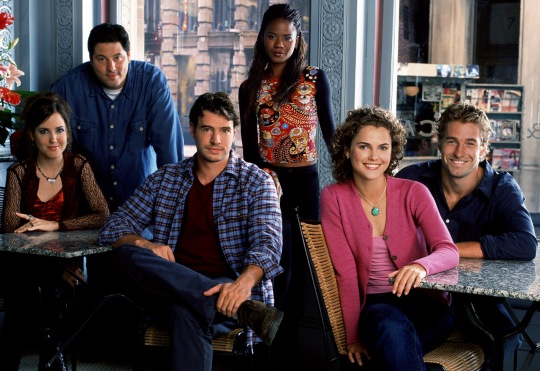 Quando chega na cidade, Felicity descobre que Ben não faz ideia do que ela sente por ele, mas isso não a impede de continuar seguindo seu coração. Felicity conhece Julie e Noel, ambos tornam-se seus amigos. Noel é o supervisor do andar do dormitório de Felicity, o que os aproxima, de uma certa forma. Felicity divide seu quarto com Meghan, uma gótica maluca, que esconde algo muito sinistro dentro de uma caixa.
Ben divide o apartamento com Sean, um inventor com ideias estranhas. E na história surgem Elena, uma garota muito esforçada e de forte personalidade, uma das melhores amigas de Felicity, que geralmente consegue o que quer; e Javier, gerente do Dean & Deluca, lanchonete onde Felicity e Ben passam a trabalhar.
CURIOSIDADES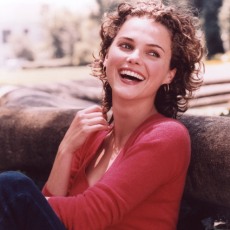 A partir da 2ª temporada, "Felicity" perdeu parte da audiência quando a personagem de Keri Russell cortou o cabelo. Depois disso, atores e atrizes ficaram proibidos de fazer qualquer alteração em seus cabelos sem consultar a produção do programa.

"Felicity" acontece na fictícia Universidade de Nova York. Os produtores pediram autorização para utilizar o nome da real New York University, porém, não conseguiram. Os responsáveis pela instituição ficaram com medo que as tramas da série pudessem influenciar negativamente a Universidade e negaram o uso do nome da NYU.

Scott Foley fez o teste para interpretar Ben Covington. Como os produtores não encontravam ninguém para o papel de Noel Crane, eles pediram que Scott interpretasse Noel até que encontrassem um novo ator para o papel de Ben.

Em um episódio, Noel diz que está trabalhando em seu website, o www.noelcrane.com. O site realmente existe e contém informações sobre a vida e o trabalho do personagem como designer gráfico. Os scripts que correm na abertura do site são instruções de como ser um Noel.

No 5º episódio da 1ª temporada (Spooked), Felicity vê Ben beijando uma garota que está usando o uniforme da Power Ranger rosa. Amy Jo Johnson, atriz que interpreta Julie Emrick, deu vida à ranger rosa nas quatro primeiras temporadas do programa.

No final da segunda temporada, Meghan diz à Elena que namorou um cara chamado Chad Savage. Um dos produtores da série se chama Chad Savage.

Apesar de ter sido cancelada com somente 4 temporadas, "Felicity" foi um grande sucesso, tanto nos EUA como no Brasil. "O cancelamento deu-se ao fato de que Felicity já estaria formada na faculdade, sendo assim, as histórias tornariam-se escassas para sua personagem", diz J.J Abrams, o criador da série. "Já que o diferencial da série era o fato dela ter mudado completamente sua vida por um rapaz, que, mesmo com altos e baixos, acabou tornando-se seu namorado. E Felicity já havia se adaptado à cidade grande e seus pais haviam se conformado com o fato de que sua filha única já era uma adulta. Felicity já estava com seu círculo de amizades formado e seu futuro previsto", afirma Abrams. "Mas 'Felicity' continuará nos corações daqueles que identificaram-se com a série e com algum dos personagens".
ELENCO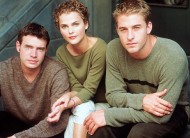 Keri Russell
(Felicity Elizabeth Porter)

Scott Foley
(Noel David Crane)

Scott Speedman
(Benjamin "Ben" Covington)

Tangi Miller
(Elena Tyler)

Amanda Foreman
(Meghan Rotundi)

Greg Grumberg
(Sean Blumberg)

Amy Jo Johnson
(Julie Emrick)

Ian Gomez
(Javier Clemente Quintata)

Rob Benedict
(Richard Coad)

Donald Faison
(Tracy)
MÚSICAS DE ABERTURA

Instrumental
Audio clip: Adobe Flash Player (version 9 or above) is required to play this audio clip. Download the latest version here. You also need to have JavaScript enabled in your browser.

"New Version of You", de J.J. Abrams e Andrew Jarecki
Audio clip: Adobe Flash Player (version 9 or above) is required to play this audio clip. Download the latest version here. You also need to have JavaScript enabled in your browser.
Can you become
Can you become
A new version of you
New wallpaper
New shoe leather
A new way home
I don't remember
New version of you
I need a new version of me
New version of you
I need a new version of me
NO BRASIL


* Aqui estão listadas as emissoras que já exibiram o seriado no Brasil, o que não significa que, atualmente, estes canais estejam transmitindo o programa. Para mais informações clique no canal desejado e consulte o guia de programação.
VÍDEO ABERTURA