SINOPSE
Três amigos de colégio ingressam na faculdade. Dois deles, Berg e Pete, dividem um apartamento e trabalham numa pizzaria, na tentativa de reforçar o magro orçamento de que dispõem. A terceira personagem é Sharon, que mora no apartamento de cima.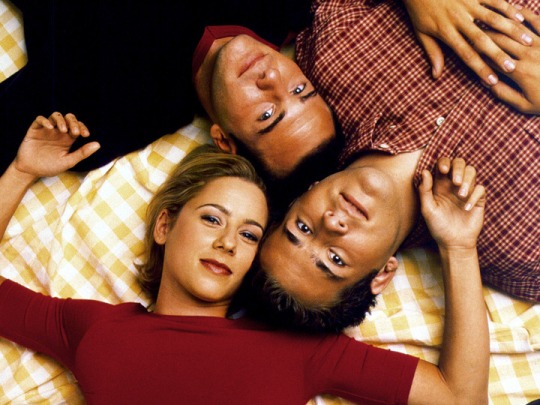 Pete é um estudante de arquitetura que tem um ponto de vista sempre analítico da vida, enquanto Berg, um estudante de medicina, sempre de bem com a vida, gosta de ser a cobaia dos novos remédios que desenvolve. Os dois vivem em conflito de personalidades e pontos de vista e, para completar, a namorada de Pete não se dá bem com Berg.
Sharon vende produtos químicos e vive um dilema entre os luxos proporcionados pelo bom salário que recebe e o mal que causa à natureza cada vez que fecha um negócio. Ela acha que o homem perfeito aliaria o bom-mocismo de Pete e a forma positiva de encarar a vida de Berg. Sharon costuma ajudar os amigos, que estão sempre sem dinheiro.
CURIOSIDADES

A série, originalmente, se chamava "Two Guys, a Girl and a Pizza Place". A partir da terceira temporada, o nome ficou apenas "Two Guys and a Girl".
ELENCO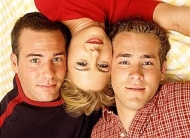 Traylor Howard
(Sharon Carter)

Ryan Reynolds
(Michael "Berg" Leslie Bergan)

Richard Ruccolo
(Pete Dunville)

Suzanne Cryer
(Ashley Walker)

Nathan Fillion
(Johnny Donnelly)

Jillian Bach
(Irene)

Jennifer Westfeldt
(Melissa)

Julius Carry
(Bill)
MÚSICA DE ABERTURA

Instrumental
Audio clip: Adobe Flash Player (version 9 or above) is required to play this audio clip. Download the latest version here. You also need to have JavaScript enabled in your browser.