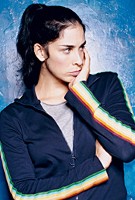 O Sony Entertainment Television vai renovar a programação das noites de terça-feira a partir de março, quando estreia quatro novas comédias no bloco "PI". A informação é do SériesOnline.
Apenas "30 Rock" e "The Daily Show with Jon Stewart: Global Editon" mantêm seus horários, enquanto "Balls of Steel" e "The Ali G Show" deixam definitivamente a programação do canal. E "Scrubs" sai temporariamente do ar, já que ainda não há previsão para a estreia de sua 7ª temporada no Brasil.
As quatro séries estreiam no dia 04 de março, começando por "10 Items or Less", às 20h30; "That's My Bush", às 21h; "Lil' Bush", às 21h30; e "The Sarah Silverman Program", às 22h.
"10 Items or Less" é uma comédia com roteiros semi-improvisados centrada num executivo mal sucedido (John Lehr, "Jesse") de Nova York, que retorna para sua cidade natal para assumir o supermercado de sua família após a morte de seu pai. Mas seu estilo de comando é bem diferente do de seu pai, fazendo com que o supermercado torne-se um local de trabalho caótico. Sua equipe disfuncional é formada por Carl (Robert Clendenin, "That '70s Show"), o doce e tolo estoquista; Yolanda (Roberta Valderrama, "ER"), a "chefe" do departamento de frutas, que também está esperando um filho de Carl; Buck (Greg Davis Jr.), o empacotador que tenta melhorar de vida ao estudar à noite; Ingrid (Kirsten Gronfield), que cuida do serviço de atendimento ao cliente; Richard (Christopher Liam Moore, "Judging Amy"), o caixa que sonha em se tornar um dançarino do gelo profissional; e Todd (Chris Payne Gilbert), o sexy açougueiro que espera um dia se tornar um piloto da stock car. E há também Amy (Jennifer Elise Cox, "Lovespring International"), a arqui inimiga de Leslie, que é dona de um supermercado no outro lado da rua. Produzido pela Sony Pictures, "10 Items or Less" atualmente está em sua segunda temporada nos EUA, onde é exibida pelo canal pago TBS, o mesmo de "My Boys".
Dos mesmos criadores de "South Park", "That's My Bush" foi criada durante a campanha da reeleição do presidente americano George W. Bush (interpretado por Timothy Bottoms). Com oito episódios, a série mostra um lado totalmente deturpado da vida do presidente na Casa Branca, onde ele terá que lidar com assuntos como imigração, meio ambiente, controle de armas e aborto, além de seus problemas "domésticos".
A série animada "Lil' Bush", também é centrada em George W. Bush, mas sob um outro ponto de vista, mostrando a infância do 43º presidente americano. Enquanto se mete em encrencas típicas das crianças, o pequeno Bush faz alguns amigos (o jovem Tony Blair) e inimigos na Casa Branca, onde também veremos as versões menores de vários nomes conhecidos da política americana como Condoleeza Rice e do vice-presidente Dick Cheney. Criada por Donick Cary, um dos roteiristas de "The Simpsons" e "Just Shoot Me!", a primeira temporada tem 6 episódios, e já foi renovada nos EUA.
A grande estreia do mês fica por conta de "The Sarah Silverman Program", uma das séries mais aclamadas pela crítica americana em 2007. Após o sucesso do filme "Sarah Silverman: Jesus Is Magic", a irreverente comediante ganha seu próprio programa. Silverman interpreta uma personagem (obviamente também chamada Sarah Silverman) cuja vida diária absurda é mostrada através de narrações e ocasionais números musicais. Em cada episódio, Sarah vive situações absurdas e hilárias, ao lado de sua irmã (vivida por sua irmã na vida real Laura Silverman), seus vizinhos gays nerds, Brian e Steve (Brian Posehn e Steve Agee), e do policial Jay (Jay Johnston). Entre as histórias surreais e repletas de palavrões, Sarah se apaixona por Deus e decide ficar negra por um dia para provar que é mais difícil ser uma judia. Com média de 1,7 milhão de telespectadores (resultado excelente para o canal pago Comedy Central), "The Sarah Silverman Program" está em sua segunda temporada nos Estados Unidos.

Receba nossas publicações por e-mail:

DEIXE SEU COMENTÁRIO (VIA FACEBOOK)
Não tem Facebook? Use o formulário abaixo:
Quer ter sua foto ao lado do comentário? Cadastre-se no Gravatar!
ATENÇÃO:
Toda e qualquer mensagem publicada através do sistema de comentários não reflete a opinião deste site ou de seus autores. As opiniões enviadas através deste sistema são de exclusiva e integral responsabilidade dos visitantes que dele fizerem uso.