SINOPSE
O que existe de tão fascinante em viver o dia de hoje? Para Eric Forman, sua namorada Donna e seus amigos Jackie, Kelso, Hyde e Fes, tudo é importante, desde que seus pais não estejam presentes para atrapalhar.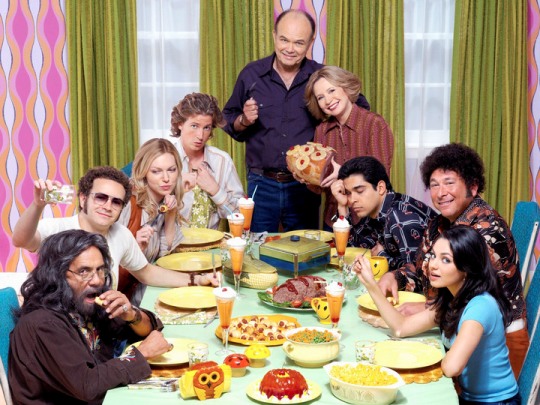 Esse grupo vive em Wisconsin, em pleno anos 1970, nos quais a música das discotecas, o rock and roll, a calça boca-de-sino, as roupas coloridas e o sexo sem "culpa" fazem parte da rotina deles.
Mas Eric ainda tem de enfrentar o mau humor constante do pai, Red, os dengos da mãe, Kitty e as amolações da irmã mais velha, Laurie. Isso sem contar com os pais atrapalhados de Donna, Midge e Bob.
"That '70's Show" conquista o público pela forma divertida com que trata assuntos, como sexo, drogas e relacionamento familiar, sob o prisma dos anos 1970, numa época em que muitos jovens estavam descobrindo seu caminho para o futuro.
CURIOSIDADES

Lisa Robin Kelly interpretou Laurie Forman durante as cinco primeiras temporadas. A partir da 6ª temporada, a atriz foi substituída por Christina Moore. Rumores da época contam que Lisa teria problemas com drogas e estava atrapalhando os bastidores da série.

Tentando se apoiar no sucesso da série, os produtores de "That '70s Show" resolveram repetir a fórmula e criaram o seriado "That '80s Show, baseado nos anos 1980.
ELENCO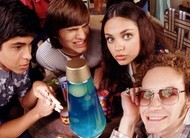 Laura Prepon
(Donna Pinciotti)

Danny Masterson
(Steven Hyde)

Mila Kunis
(Jackie Beulah Burkhardt)

Wilmer Valderrama
(Fez)

Debra Jo Rupp
(Kitty Forman)

Kurtwood Smith
(Reginald "Red" Forman)

Don Stark
(Bob Pinciotti)

Ashton Kutcher
(Michael Kelso)

Topher Grace
(Eric Forman)

Tanya Roberts
(Midge Pinciotti)

Tommy Chong
(Leo)

Lisa Robin Kelly
(Laurie Forman)

Josh Meyers
(Randy Pearson)

Christina Moore
(Laurie Forman)
MÚSICA DE ABERTURA

"
In The Street
", de Cheap Trick
Audio clip: Adobe Flash Player (version 9 or above) is required to play this audio clip. Download the latest version here. You also need to have JavaScript enabled in your browser.
Hangin' out down the street
The same old thing we did last week
Not a thing to do
But talk to you
We're all alright
We're all alright
Hello Wisconsin
NO BRASIL



* Aqui estão listadas as emissoras que já exibiram o seriado no Brasil, o que não significa que, atualmente, estes canais estejam transmitindo o programa. Para mais informações clique no canal desejado e consulte o guia de programação.
VÍDEO ABERTURA