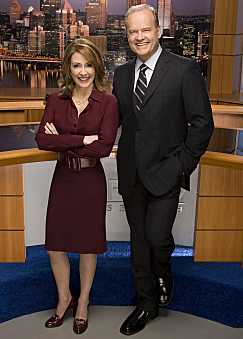 Kelsey Grammer está muito aborrecido com a decisão da emissora americana Fox de, sem aviso prévio, cancelar sua nova série "Back to You", onde faz par com Patricia Heaton.
Em um comunicado difundido semana passada à imprensa, o ator afirma que não entende por que os executivos decidiram tirar o programa do ar. "Eles simplesmente acabaram com o show, e eu não estou certo sobre o motivo que os levou a fazê-lo. Eu acho que eles terminaram com um programa, que seria um grande espetáculo", diz.
"Back to You" focava no mundo competitivo de um telejornal. Chuck Darling (Grammer, "Frasier"), um famoso âncora de TV, se viu obrigado a voltar para seu antigo jornal, depois que uma gravação (que não deveria ter ido ao ar) é veiculada no YouTube. Com a volta de Chuck, Kelly Carr (Heaton, "Everybody Loves Raymond") teme que seu atual posto de apresentadora do jornal seja transferido à Chuck e, a partir daí, ela e seu antigo colega de trabalho passam a relembrar velhas — e não tão boas — lembranças.
No elenco havia, ainda, alguns nomes conhecidos como Fred Willard ("Maybe It's Me") e Ty Burell ("Out of Practice").
A série foi cancelada com 16 episódios (antes da greve dos roteiristas, a Fox americana havia encomendado 24 episódios), o último inédito foi exibido em 14 de maio e o final da série ainda não foi ao ar nos Estados Unidos. Até então, não há previsão de estréia da série no Brasil. Segundo informações de sites especializados, o programa teve seu cancelamento devido aos altos salários dos atores e a série não tinha a audiência esperada pelo canal.

Receba nossas publicações por e-mail:

DEIXE SEU COMENTÁRIO (VIA FACEBOOK)
Não tem Facebook? Use o formulário abaixo:
Quer ter sua foto ao lado do comentário? Cadastre-se no Gravatar!
ATENÇÃO:
Toda e qualquer mensagem publicada através do sistema de comentários não reflete a opinião deste site ou de seus autores. As opiniões enviadas através deste sistema são de exclusiva e integral responsabilidade dos visitantes que dele fizerem uso.