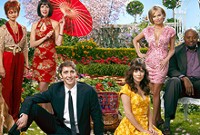 "Pushing Daisies", uma das séries mais aguardadas e aclamadas pela crítica americana, finalmente já tem data para chegar ao Brasil: na quinta-feira, 10 de abril, às 21h, na Warner Channel.
Criada por Bryan Fuller ("Heroes", "Wonderfalls", "Dead Like Me") e produzida por Barry Sonnenfeld ("Notes From The Underbelly"), a série traz uma mistura incomum de romance, fantasia e mistério. Este conto de fadas da era da investigação forense segue os passos de Ned (Lee Pace, "Wonderfalls"), um jovem homem com um dom muito especial.
Quando garoto, Ned descobriu que ele podia trazer os mortos brevemente de volta à vida, com apenas um toque. Mas as pessoas que Ned ressucitar só podem viver por um minuto, ou alguém aleatóriamente morrerá no lugar. Agora, dono de uma loja de tortas, Ned decidiu usar seu dom para algo útil, e passou a trabalhar com um investigador particular, Emerson Cod (Chi McBride, "The Nine", "Boston Public"), para solucionar casos de assassinato ao ressuscitar os mortos e fazer com que eles revelem o nome de seus assassinos.
Mas a história fica complicada quando Ned traz sua paixão da juventude, Charlotte "Chuck" Charles (Anna Friel), de volta dos mortos — e a mantém viva. Chuck ajuda Ned e Emerson nas investigações deles, encorajando Ned a usar suas habilidades para o bem, e não apenas em troca de dinheiro. A vida seria perfeita para Ned e Chuck, exceto por um detalhe cruel: caso ele tocar nela novamente, ela voltará a morrer, e desta vez para sempre.
Entre os personagens exóticos que completam a série estão Olive Snook (Kristin Chenoweth, "The West Wing"), a bela garçonete da loja de tortas que é apaixonada por Ned; e as depressivas tias de Chuck, Vivian (Ellen Greene) e Lily (Swoosie Kurtz, "Huff"), que usa um tapa olho, ambas ex-nadadoras de nado sincronizado do número "Sereias, Queridas Sereias". Além disso, as histórias de "Pushing Daisies" são narradas por Jim Dale.
A série mal estreou nos EUA e já recebeu alguns prêmios, como o de Melhor Direção Série Comédia no Directors Guild of America Awards e de Melhor Série Estreante do Family Television Awards, além de indicações ao Globo de Ouro (Melhor Série, Ator e Atriz em Comédia), People's Choice Awards e Writers Guild Awards.
Devido à greve dos roteiristas, apenas 9 dos 22 episódios previstos para a primeira temporada de "Pushing Daisies" foram produzidos. Até o momento, a série tem uma média de 9,460 milhões de telespectadores, ficando entre os 50 programas mais assistidos da TV americana, conforme publicação do site SériesOnline.
Como "Pushing Daisies" passa a ocupar o horário de "Men in Trees" nas noites de quinta-feira, ainda não se sabe como ficará a grade de programação do Warner Channel a partir de abril. Além disso, a Warner já divulga em vinhetas a estreia da série.

Receba nossas publicações por e-mail:

DEIXE SEU COMENTÁRIO (VIA FACEBOOK)
Não tem Facebook? Use o formulário abaixo:
Quer ter sua foto ao lado do comentário? Cadastre-se no Gravatar!
ATENÇÃO:
Toda e qualquer mensagem publicada através do sistema de comentários não reflete a opinião deste site ou de seus autores. As opiniões enviadas através deste sistema são de exclusiva e integral responsabilidade dos visitantes que dele fizerem uso.