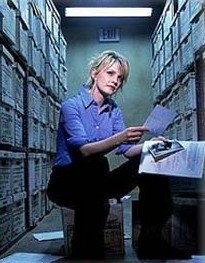 Os fãs de "Cold Case" poderão se despedir da série esta noite, quando a Warner Channel exibir o episódio final do programa. A série, que esteve no ar de 2003 até 2010, durante 7 temporadas, totalizando 156 episódios, foi cancelada pela rede americana CBS.
"Cold Case" tratava de casos policiais arquivados, aqueles não solucionados. Sempre que uma nova testemunha de um desses casos surgia, a equipe da Detetive Lilly Rush (Kathryn Morris) buscava desvendar o que realmente havia acontecido. Embora pareça somente mais uma série policial, "Cold Case" deixava sua marca através das músicas.
Os episódios eram recheados com uma trilha sonora especial. Alguns deles, inclusive, eram acompanhados por músicas de somente um artista, durante todo o capítulo. Dois dos mais marcantes, até então, foram os episódios finais da sexta temporada, que contaram com músicas somente da banda Pearl Jam, que liberou 16 canções para o seriado.
"Cold Case" já teve episódios com músicas do Nirvana, Nickelback, antigas como Toto, Heart e, até mesmo, Elvis Presley. O desfecho de cada episódio era sempre emocionante, pois a música sempre tinha algo a ver com o que estava acontecendo.
Hoje, no último episódio de "Cold Case", boa música não faltará. Para fechar com chave de ouro, o episódio final terá como trilha sonora a música dos Rolling Stones, que também estreará o tema musical inédito "So Divine (Aladdin Story)". Além disso, você curtirá ainda o som de "Tumbling Dice", "Doo Doo Doo Doo Doo (Heartbreaker)", "Beast of Burden", "Slave", "Undercover of the Night" e "Winter".
Em "Shattered", o detetive Valens (Danny Pino) continua na pista do caso que vem investigando há mais de 17 anos: o misterioso assassinato de uma adolescente morta logo após seu baile de formatura. Além disso, Valens fará de tudo para ajudar Lilly a encontrar a sua irmã Christina, desaparecida há muito anos. Agora que está em perigo, Rush começa a se sentir culpada por não tê-la ajudado no momento devido.
Esta noite, 31 de maio, a partir das 21h, na Warner Channel.

Receba nossas publicações por e-mail:

DEIXE SEU COMENTÁRIO (VIA FACEBOOK)
Não tem Facebook? Use o formulário abaixo:
Quer ter sua foto ao lado do comentário? Cadastre-se no Gravatar!
ATENÇÃO:
Toda e qualquer mensagem publicada através do sistema de comentários não reflete a opinião deste site ou de seus autores. As opiniões enviadas através deste sistema são de exclusiva e integral responsabilidade dos visitantes que dele fizerem uso.