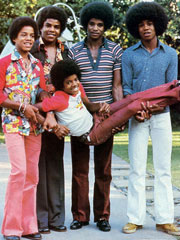 Depois da morte do rei do pop, Michael Jackson, a mídia ficou louca atrás de toda e qualquer informação sobre a vida do cantor. E, se não bastasse, agora toda a família de Michael entrou na folia.
Segundo informou o site norte-americano The Insider, a família Jackson ganhará uma nova série de TV. A publicação informou, ainda, que as tentativas de reunir o Jackson 5 foram registradas por meses e, agora, vão compor um seriado.
O presidente do canal A&E disse ao The Insider que ideia inicial era transformar as filmagens em um documentário. O material foi produzido durante vários meses e mostra os altos e baixos dos esforços para ressuscitar o grupo.
Ele informou, também, que na época em que as imagens foram feitas, Michael Jackson não quis participar do projeto.

Receba nossas publicações por e-mail:

DEIXE SEU COMENTÁRIO (VIA FACEBOOK)
Não tem Facebook? Use o formulário abaixo:
Quer ter sua foto ao lado do comentário? Cadastre-se no Gravatar!
ATENÇÃO:
Toda e qualquer mensagem publicada através do sistema de comentários não reflete a opinião deste site ou de seus autores. As opiniões enviadas através deste sistema são de exclusiva e integral responsabilidade dos visitantes que dele fizerem uso.