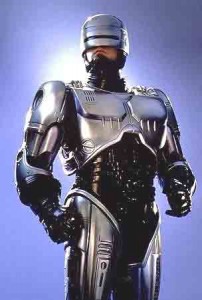 Quando a idéia de refilmar "RoboCop" havia esfriado, eis que um comunicado oficial da MGM volta a tocar no assunto. Confira o trecho:
"A MGM planeja uma empolgante temporada de lançamentos no outono e inverno [nos EUA]. Em parceria com a Sony Pictures trará novos títulos de duas franquias-chave - o novo James Bond Quantum of Solace e Steve Martin em Pink Panther 2. (...) A MGM entrará em sua nova fase de evolução concentrando- se nas continuações de James Bond e Pink Panther, O Hobbit, Thomas Crown Affair 2, The Outer Limits, Robocop, Death Wish e Fame, entre outros".
Alguns desses projetos, como a continuação de Thomas Crown e o remake de "Desejo de Matar" (Death Wish) já são conhecidos, mas o estúdio assumir assim que planeja renovar "RoboCop" é novidade.
O primeiro filme, dirigido pelo gênio Paul Verhoeven ("O Vingador do Futuro", "O Homem Sem Sombra") em 1987, é um de seus melhores trabalhos e chega à maioridade alcançando status de cult. Já as continuações, a série de TV e mesmo os quadrinhos deixaram muito a desejar.

Receba nossas publicações por e-mail:

DEIXE SEU COMENTÁRIO (VIA FACEBOOK)
Não tem Facebook? Use o formulário abaixo:
Quer ter sua foto ao lado do comentário? Cadastre-se no Gravatar!
ATENÇÃO:
Toda e qualquer mensagem publicada através do sistema de comentários não reflete a opinião deste site ou de seus autores. As opiniões enviadas através deste sistema são de exclusiva e integral responsabilidade dos visitantes que dele fizerem uso.