Não são apenas as emissoras de TV que lutam na briga por fãs de seriados. A Netflix, serviço de streaming, estreia nesta sexta-feira, dia 1º de fevereiro, a primeira produção original, "House of Cards", com Kevin Spacey no papel principal.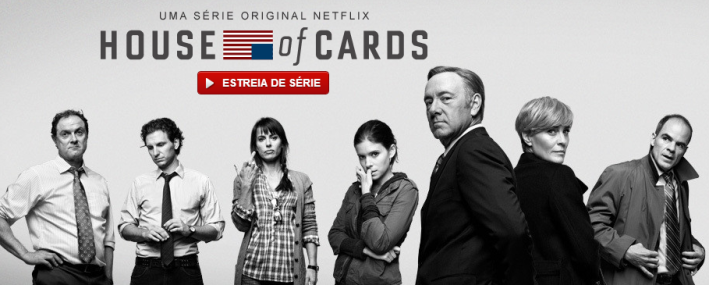 O enredo acompanha as maquinações do deputado Francis Underwood (Spacey) para derrubar o governo que ajudou a eleger, após ser preterido ao posto de secretário de Estado do país. Nessa escalada, o protagonista envolve sua mulher, Claire (Robin Wright), executiva de uma ONG com temperamento à la Lady Macbeth.
"House of Cards" é uma atualização de uma série inglesa de 1990, baseada em livros de Michael Dobbs, que foi assessor da primeira-ministra Margaret Thatcher. "Não precisei olhar para nenhum político contemporâneo. A verdade estava nas páginas do roteiro, nas atuações da versão britânica e no teatro de Shakespeare", diz Kevin Spacey, em entrevista concedida à Folha. "Sinto-me num playground".
Toda a primeira temporada da atração, com 13 episódios, será disponibilizada de uma só vez para os 50 países em que a Netflix opera. A segunda temporada da série, com mais 13 capítulos, já está garantida. "Qualquer um que tope me assistir por 13 horas seguidas no fim de semana é maluco", diverte-se Spacey, com a possibilidade de o público ver a série sem as interrupções semanais, comuns às produções da TV.
E, para quem não é assinante, a Netflix também disponibiliza os episódios. Acesse o link.

Receba nossas publicações por e-mail:

DEIXE SEU COMENTÁRIO (VIA FACEBOOK)
Não tem Facebook? Use o formulário abaixo:
Quer ter sua foto ao lado do comentário? Cadastre-se no Gravatar!
ATENÇÃO:
Toda e qualquer mensagem publicada através do sistema de comentários não reflete a opinião deste site ou de seus autores. As opiniões enviadas através deste sistema são de exclusiva e integral responsabilidade dos visitantes que dele fizerem uso.