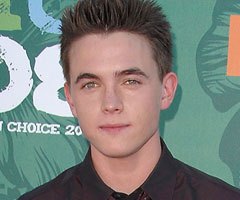 Tem gente nova em "Greek". Os atores Jesse McCartney e Ken Marino foram escalados para a 2ª temporada da série, que estreou nos Estados Unidos no dia 26 de agosto, na ABC Family. O 2º ano do programa entra em hiato esta noite, com a exibição dos episódio "See You Next Time, Sisters" e "Formally Yours" e, dessa forma, retornará apenas na primavera americana.
McCartney, atualmente com 21 anos, será Andy, um amigo de Calvin (Paul James) da época do colégio e, sua entrada na série vai causar uma grande rivalidade entre as fraternidades Kappa Tau e Omega Chi. Já o ator Ken Marino entra na série como um conselheiro do acampamento de verão.
Quando "Greek" retornar com a segunda metade da 2ª temporada, Casey (Spencer Grammer) terá de lidar com uma fraternidade secreta e seus espiões, enquanto Rusty (Jacob Zachar) se mostrará um membro ativo da Kappa Tau. Como é de costume a cada início de ano, novos alunos vão batalhar para fazer parte de uma das fraternidades.
Jesse McCartney, recentemente, participou de "Dancing With The Stars" e, além disso, esteve no elenco da extinta "Summerland". E, por último, Ken Marino participou de "Reaper", interpretando o demônio gay Tony, além do seu papel mais conhecido como Vinnie Van Lowe, o detetive rival de "Veronica Mars".

Receba nossas publicações por e-mail:

DEIXE SEU COMENTÁRIO (VIA FACEBOOK)
Não tem Facebook? Use o formulário abaixo:
Quer ter sua foto ao lado do comentário? Cadastre-se no Gravatar!
ATENÇÃO:
Toda e qualquer mensagem publicada através do sistema de comentários não reflete a opinião deste site ou de seus autores. As opiniões enviadas através deste sistema são de exclusiva e integral responsabilidade dos visitantes que dele fizerem uso.