SINOPSE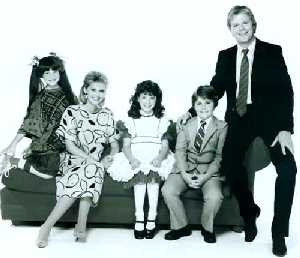 Ted Lawson é um engenheiro que trabalha numa empresa de robótica. Casado com Joan e pai de Jamie. Um belo dia, Ted trouxe para casa um protótipo da empresa onde trabalhava: um androide na forma de uma menina de 10 anos de idade. Esse androide fora levado para a casa com o intuito de ajudar nas tarefas, e de fazer companhia ao menino Jamie. O nome de série do robô era Voice Input Child Indenticant, e, por causa de suas iniciais "VICI", foi batizado carinhosamente de Vicki.
Os Lawson escondem das pessoas a identidade robô de Vicki e, claro que essa não é uma tarefa fácil. Ainda mais com vizinhos como os Brindle: Brandon Brindle, o pai da família, é o patrão de Ted, tem uma esposa interesseira e uma filha hilária: Harriet. A menina da franja gigante é apaixonada por Jamie, e vive perseguindo o pobre garotinho - "Onde está o meu homem?", pergunta a menina sem noção.
Jamie, o irmão "postiço" de Vicki, é o encarregado de ensiná-la a agir como uma humana normal, mas nem sempre isso gera efeitos - o máximo que Vicki consegue fazer é imitar as pessoas, e levar tudo ao pé da letra, apesar de muitas vezes ser bem mais esperta que seus professores humanos. Vicki, por sua vez, tem um alter-ego malvado: a Vanessa, irmã gêmea da menina, uma experiência mais avançada trazida por Ted de seu laboratório. Vanessa apareceu apenas duas vezes na série, mas, mesmo com essas curtas aparições, acabou se fixando na memória dos telespectadores.
CURIOSIDADES

Os produtores da série cogitaram criar um novo seriado chamado "Too Good To Be True", no qual Vanessa seria a protagonista, no entanto, o projeto nunca saiu do papel.

Embora nos Estados Unidos o nome da personagem seja Vicki, no Brasil, a série mudou a grafia do nome da protagonista para Vicky.
ELENCO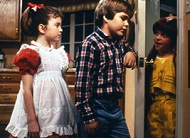 Tiffany Brissette
(Vicki)

Dick Christie
(Ted Lawson)

Marla Pennington
(Joan Lawson)

Jerry Supiran
(Jamie Lawson)

Emily Schulman
(Harriet Brindle)

William Bogert
(Brandon Brindle)
MÚSICA DE ABERTURA

"
Small Wonder
", de Howard Leeds e Ron Alexander
Audio clip: Adobe Flash Player (version 9 or above) is required to play this audio clip. Download the latest version here. You also need to have JavaScript enabled in your browser.
NO BRASIL

* Aqui estão listadas as emissoras que já exibiram o seriado no Brasil, o que não significa que, atualmente, estes canais estejam transmitindo o programa. Para mais informações clique no canal desejado e consulte o guia de programação.
VÍDEO ABERTURA