SINOPSE
Al Bundy é um vendedor de sapatos que, durante o ensino médio, era um grande jogador de futebol americano, até se casar e formar sua família totalmente fora do normal.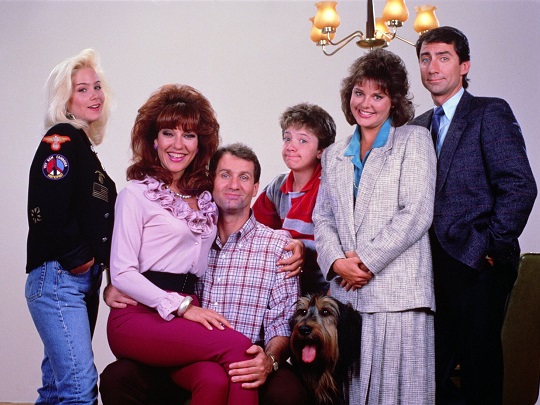 Peg Bundy, sua mulher, é viciada em compras e em Oprah. Kelly Bundy é sua filha atraente, porém burra, e Bud Bundy é o filho que nunca tem sorte com mulheres.
Steve Rhoades é o vizinho, e Marcy D'Arcy é sua ex-mulher. A partir da quarta temporada Marcy muda de marido, casando-se com Jefferson D'Arcy, que ao contrário de Steve, se entende perfeitamente com Al.
CURIOSIDADES

"Married... With Children" começou a ser transmitida no Brasil pelo canal TVA Filmes (Showtime), da operadora de TV por assinatura TVA, no ano de 1991. Era um serviço pago, mas a operadora, nos seus primeiros tempos, disponibilizava uma pequena amostra da programação do canal, abrindo seu sinal em UHF no começo da noite para São Paulo e Rio de Janeiro (a área de cobertura da TVA nesses tempos). E essa pequena amostra da programação era constituída, justamente, por "Married... With Children". No entanto, foi só em 1994 que a série passou a ser exibida em TV Aberta e a nível nacional, quando a Band começou a transmitir os episódios dublados da série.
ELENCO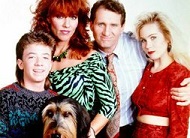 Ed O'Neill
(Al Bundy)

Katey Sagal
(Peg Bundy)

Amanda Bearse
(Marcy Rhoades D'Arcy)

David Faustino
(Bud Bundy)

Christina Applegate
(Kelly Bundy)

Ted McGinley
(Jefferson D'Arcy)

Kevin Curran
(Buck, o cachorro / Lucky, o cachorro)

David Garrison
(Steve Rhoades)
MÚSICA DE ABERTURA

"
Love and Marriage
", de Frank Sinatra
Audio clip: Adobe Flash Player (version 9 or above) is required to play this audio clip. Download the latest version here. You also need to have JavaScript enabled in your browser.
NO BRASIL




* Aqui estão listadas as emissoras que já exibiram o seriado no Brasil, o que não significa que, atualmente, estes canais estejam transmitindo o programa. Para mais informações clique no canal desejado e consulte o guia de programação.
VÍDEO ABERTURA