SINOPSE
Jane Quimby é uma adolescente órfã e esperta, que consegue um emprego em uma empresa famosa e admirada no ramo da moda. Com uma idade inapropriada para trabalhar, ela cria uma dupla identidade que fica dividida entre os delírios escolares e as responsabilidades no emprego.
Jane se encontra perdida, uma vez que sua verdadeira idade não pode ser descoberta no seu serviço e tão pouco o pessoal de sua escola poderá saber onde ela está trabalhando. Porém, Jane sabe que não poderá perder esta oportunidade, pois são nulas as chances de seu currículo ser confundido novamente e ela ganhar um cargo de extrema confiança: ser assistente de um dos maiores nome do mundo da moda.
Seu irmão mais velho, Ben, consegue emprego como treinador do colégio em que Jane estuda e, com a ajuda de seu melhor amigo Billy, a assistente de moda de Gray Chandler Murray vai precisar despistar todo mundo, para poder vivenciar aventuras e situações que uma simples estagiária jamais teria a oportunidade.
ELENCO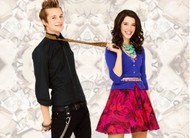 Erica Dasher
(Jane Quimby)

David Clayton Rogers
(Ben Quimby)

Nick Roux
(Billy Nutter)

Rowly Dennis
(Jeremy Jones)

India de Beaufort
(India Jordain)

Meagan Tandy
(Lulu Pope)

Matthew Atkinson
(Nick Fadden)

Smith Cho
(Rita Shaw)

Andie MacDowell
(Gray Chandler Murray)
MÚSICA DE ABERTURA

"
Work of Art
", de Rachel Platten
Audio clip: Adobe Flash Player (version 9 or above) is required to play this audio clip. Download the latest version here. You also need to have JavaScript enabled in your browser.
My heart where my head should be
And light up the rest of me
'Cause my dreams, they won't fall apart through the stops and starts when
You're life is a work of art
NO BRASIL

* Aqui estão listadas as emissoras que já exibiram o seriado no Brasil, o que não significa que, atualmente, estes canais estejam transmitindo o programa. Para mais informações clique no canal desejado e consulte o guia de programação.
VÍDEO ABERTURA