SINOPSE
"Friends" mostra a vida de seis amigos que vivem uns no apartamento dos outros, além de dividir um sofá na cafeteria "Central Perk".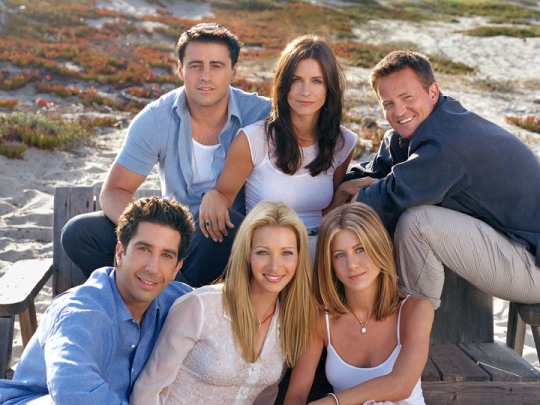 Monica é uma chef de cozinha com uma obsessão por limpeza, e que gosta de manter sua vida sob controle. Ela é casada com Chandler, um sujeito engraçado que sempre se perde nas palavras.
Do outro lado do corredor, moram Joey, o ex-colega de apartamento de Chandler que ganha a vida como ator e trabalha na novela "Days of Our Lives" — e que tem uma grande fama de mulherengo —, e Rachel, a melhor amiga de Monica desde a época da escola.
No prédio vizinho, vive Ross, o irmão de Monica, um professor de paleontologia que já se divorciou três vezes, incluindo de Rachel. Apesar de Rachel não estar mais envolvida com Ross, os dois dividem as responsabilidades para criar sua recém-nascida filha, Emma.
Completando esse exótico grupo de amigos, está Phoebe, a ex-colega de apartamento de Monica, uma pessoa sempre otimista que divide seu tempo entre cantar e trabalhar como massagista.

ELENCO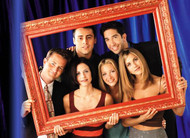 Jennifer Aniston
(Rachel Karen Green)

Courteney Cox
(Monica E. Geller-Bing)

Lisa Kudrow
(Phoebe Buffay-Hannigan)

Matt LeBlanc
(Joseph "Joey" Francis Tribbiani)

Matthew Perry
(Chandler Muriel Bing)

David Schwimmer
(Ross Geller)
MÚSICA DE ABERTURA

"I'll Be There For You"
, de The Rembrandts
Audio clip: Adobe Flash Player (version 9 or above) is required to play this audio clip. Download the latest version here. You also need to have JavaScript enabled in your browser.
So no one told you life was gonna be this way
Your job's a joke, you're broke, your love life's D.O.A.
It's like you're always stuck in second gear
When it hasn't been your day, your week, your month, or even your year, but...
I'll be there for you
(When the rain starts to fall)
I'll be there for you
(Like I've been there before)
I'll be there for you
('Cause you're there for me too)
NO BRASIL




* Aqui estão listadas as emissoras que já exibiram o seriado no Brasil, o que não significa que, atualmente, estes canais estejam transmitindo o programa. Para mais informações clique no canal desejado e consulte o guia de programação.
VÍDEO ABERTURA
SPIN-OFF

"
Joey
"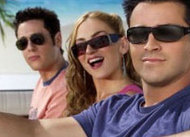 Após o nascimento dos gêmeos de Monica e Chandler, o casamento de Phoebe e Mike e a volta de Rachel e Ross, Joey deixa New York e vai para Hollywood, na tentativa de melhorar sua carreira de ator. Ele também dá adeus à época em que seus amigos eram a sua família e recebe a chance de transformar sua família em seus amigos...

Leia mais