SINOPSE
Glenn Close estrela o drama "Damages", como uma carismática e habilidosa advogada de Nova York. Intensa, repleta de reviravoltas e audaciosa, esta série tem três grandes características: é um drama sobre advogados, tem um emocionante mistério sobre um assassinato e está repleta de personagens complexos.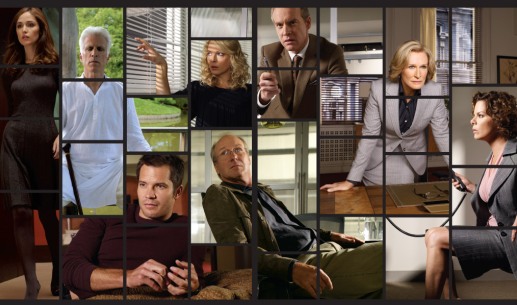 Após iniciar um processo contra o grande empresário Arthur Frobisher, Patty Hewes está determinada a destruí-lo através de uma ação coletiva após ele sair imune de um escândalo governamental. Mas a série começa com um detalhe mais fatal: uma mulher ensangüentada e aterrorizada foge do apartamento dela e chega até a sala de interrogação de uma delegacia de polícia onde ela não irá revelar nem ao menos sua identidade. Através de flashbacks de seis meses atrás, descobrimos que a mulher na verdade é Ellen Parsons, que conseguiu o emprego de seus sonhos na firma de advocacia Hewes & Associados, onde foi escolhida pessoalmente por Patty.
Enquanto a brilhante e ambiciosa Ellen começa a se envolver cada vez mais no caso de Frobisher — contando com a ajuda do sócio da firma, o advogado Tom Shayes — ela descobre que as reviravoltas que se tornaram a marca deste caso talvez não sejam o que aparentam ser. E Patty talvez seja mais maquiavélica do que sua mentora. E o pior, o trabalho dela aparenta afetar de maneira preocupante a vida de seu noivo, o cirurgião interno David Connor, o que não deve ser uma mera coincidência. Do lado de Frobisher, seu advogado Ray Fiske tem a difícil tarefa de enfrentar a insuperável Patty e manter um cliente difícil satisfeito.
"Damages" tem dois arcos principais na primeira temporada — o caso de Frobisher e o mistério do assassinato envolvendo a discussão de Ellen na sala de interrogação e seus conseqüentes desdobramentos. Mas os episódios também terão histórias que mostrarão as vidas pessoais dos personagens. Mas o foco central da série continuará sendo o relacionamento entre Patty e Ellen, e se a mentora irá auxiliar no sucesso de sua protegida, ou destruir a alma dela. No final da 1ª temporada, o caso de Frobisher e o misterioso assassinato serão solucionados... embora uma questão essencial continuará a ser a base da próxima temporada.
Na verdade, a série constantemente responderá algumas questões e levantará novas dúvidas, enquanto o quebra cabeça sobre uma grande dúvida servirá de pano de fundo: por que Patty contratou Ellen? E por que — no episódio piloto — Ellen ignorou o conselho de um gentil e velho advogado para ficar evitar trabalhar com Patty?
As próximas temporadas mostrarão o julgamento de Frobisher e outros casos de Hewes. Como uma grande advogada, ela se infiltrou entre os poderosos de Nova York, e no seu mundo de políticos, grandes negócios, esportes e entretenimento — uma base ideal para histórias repletas de personagens complexos, casos multi-facetados e conflitos multi-dimensionais.
ELENCO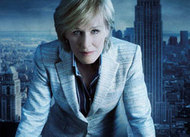 Glenn Close
(Patty Hewes)

Rose Byrne
(Ellen Parsons)

Ted Danson
(Arthur Frobisher)

Tate Donovan
(Tom Shayes)

Zeljko Ivanek
(Ray Fiske)

Anastasia Griffith
(Katie Connor)

Noah Bean
(David Connor)
MÚSICA DE ABERTURA

"
When I Am Through With You
", de The V.L.A.
Audio clip: Adobe Flash Player (version 9 or above) is required to play this audio clip. Download the latest version here. You also need to have JavaScript enabled in your browser.
NO BRASIL


* Aqui estão listadas as emissoras que já exibiram o seriado no Brasil, o que não significa que, atualmente, estes canais estejam transmitindo o programa. Para mais informações clique no canal desejado e consulte o guia de programação.
VÍDEO ABERTURA