A série já abordou de tudo. Desde o escândalo da estreia até o tabu do HIV, passando por morte, adolescente expulso de casa, preconceito, violência e traição. Essa é "Queer as Folk", versão norte-americana, lançada em dezembro de 2000 em uma co-produção dos Estados Unidos e do Canadá.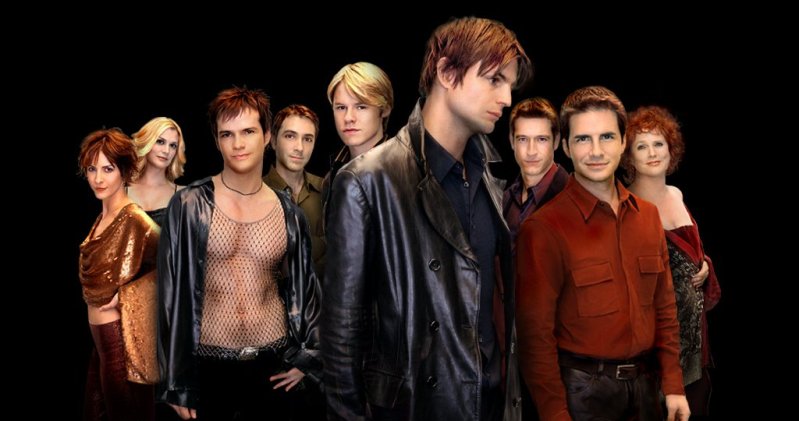 Brian Kinney (Gale Harold) é o trintão com alma de Peter Pan. Vive em seu mundo particular, é cobiçado por todos os rapazes de Pittsburgh (e tem consciência disso), tem um emprego estável e um apartamento invejável. É amigo de infância de Michael Novotny (Hal Sparks), um maníaco por quadrinhos, gerente de uma loja de departamentos. A relação de Brian e Michael é entrelaçada de amor, mágoa e, talvez, a decepção de algo que nunca se concretizou.
Na história também surge Emmett Honeycutt (Peter Paige), o personagem mais interessante de todos. É independente, sincero, carente, amigo, divertido e, durante algum tempo, teve dúvidas sobre sua sexualidade. Acreditou que Jesus o salvaria e tentou "virar" hétero. Sem sucesso, aceitou sua condição gay e passou de vendedor de uma loja de roupas a ator pornô. Foi namorado de George, um homem idoso, que morreu numa viagem de avião. A morte aconteceu dentro do banheiro, enquanto Emmett e George faziam sexo. Emmett recebe 10 milhões de dólares de "herança" e cai na mira da família de seu falecido companheiro.
Por outro lado, temos Ted (Scott Lowell), o típico americano: tem um emprego que detesta, é solteiro, tem baixa auto estima, já se envolveu com drogas e tem uma paixão platônica por Michael. Não gosta de sua aparência, muito menos de seu corpo, já foi despedido de um emprego por se masturbar enquanto acessava um site gay. Fundou uma empresa de filmes pornôs.
Justin (Randy Harrison) é o adolescente que descobre sua sexualidade frente aos preconceitos dentro da própria família. Um pai que não aceita sua orientação e o expulsa de casa; uma mãe submissa, que perde o filho por medo do marido. Justin passa a morar com Brian, em quem identifica sua alma gêmea, porém, encontrou seu verdadeiro lar na casa de Debbie (Sharon Gless), a fantástica mãe de Michael, lutadora convicta dos direitos gays. Pode ser considerada mãe e amiga dos cinco rapazes envolvidos na série. É irmã de Vic (Jack Wetherall), um homem de meia-idade, portador do HIV, sempre dando conselhos para que todos encontrem a felicidade, algo que ele não conseguiu fazer.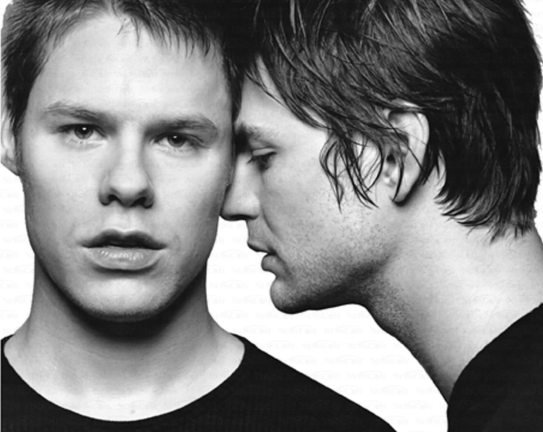 As outras mulheres da história são Lindsay (Thea Gill) e Melanie (Michelle Clunie), um casal de lésbicas, cujo sonho principal é ter um filho. O desejo é realizado no primeiro episódio da série, graças à colaboração de Brian, doador do esperma que deu vida ao pequeno Gus. O garoto nasceu de Lindsay e foi adotado por Melanie, porém, não perdeu a presença do pai, que sempre esteve às voltas para dar ao filho tudo o que julgasse necessário. Na terceira temporada, Melanie dá a luz à pequena Jenny. Lindsay e Mel têm uma relação turbulenta, envolvendo traição e inversão de valores.
Essa é a vida em torno de "Queer as Folk". Uma série que buscou abordar o universo gay sem apelar para a excessiva nudez ou para a pornografia, mostrando os gays como pessoas comuns, trabalhadores, com sentimentos, aspirações, vontades e decepções. Com cinco temporadas, 83 episódios, a série foi um marco na história LGBT. Na América do Norte foi transmitida pelos canais de TV paga Showtime e Showcase. No Brasil, foi ao ar no Cinemax com o nome de "Os Assumidos" (bizarro? Veja mais aqui).
"Queer as Folk" abraçou com coragem muitos assuntos polêmicos. No entanto, nunca perdeu a pose, sempre com doses de humor, seriedade, romantismo e emoção e deixou seu legado na luta pelos direitos dos homossexuais.
A série abordou, também, uma questão muito discutida na atualidade: o bullying na escola. O alvo dos valentões foi Justin, que nunca baixou a cabeça aos ataques dos homofóbicos de plantão. Uma das cenas mais emocionantes aconteceu no encerramento da primeira temporada, quando Brian chega na formatura de Justin e o tira para dançar a valsa, ao som de Save The Last Dance For Me (veja o vídeo abaixo). Embora emocionante, o final foi trágico, pois Justin foi atacado, apanhou com um bastão de beisebol. O rapaz ficou com sérias sequelas, o que o impediu de fazer aquilo que mais gostava: desenhar.
"Queer as Folk" tinha, também, como pano de fundo, a boate Babylon, ponto de encontro dos cinco amigos. A casa noturna foi palco de muitas histórias, sendo influência até no Brasil, já que a boate The Week, em São Paulo, foi inspirada na Babylon.
Os personagens do seriado são pessoas que encontramos em nosso cotidiano. Tudo isto num cenário que emocionou o mundo todo, que trouxe alegria, angústia, celebração, decepção. Colocou o universo a par dessas pessoas que buscam pelos direitos, buscam pelo reconhecimento como cidadãos, que buscam encontrar a felicidade.

Receba nossas publicações por e-mail:

DEIXE SEU COMENTÁRIO (VIA FACEBOOK)
Não tem Facebook? Use o formulário abaixo:
Quer ter sua foto ao lado do comentário? Cadastre-se no Gravatar!
ATENÇÃO:
Toda e qualquer mensagem publicada através do sistema de comentários não reflete a opinião deste site ou de seus autores. As opiniões enviadas através deste sistema são de exclusiva e integral responsabilidade dos visitantes que dele fizerem uso.