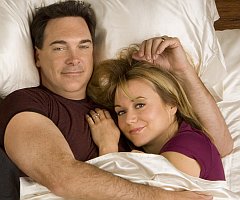 "Rules of Engagement" é a nova comédia da CBS, que vai ao ar todas as noite de segunda e Patrick Warburton ("Less Than Perfect") e Megyn Price ("Grounded for Life") interpretam o casal Jeff e Audrey; Oliver Hudson ("Dawson's Creek") e Bianca Kajlich ("Dawson's Creek") são Adam e Jennifer; e David Spade ("8 Simple Rules") é Russell, um solteiro convicto.
Na vida real, Warburton, Price, Hudson e Kajlich são casados, e Spade é, de fato, um solteiro convicto.
Tom Hertz, produtor executivo da série diz: "Russell, o personagem, e David, ambos são parecidos, pois não têm sucesso em suas vidas amorosas [monogâmicas], não conseguem manter um relacionamento duradouro. Acredito que eles se sentem bem sendo assim, mas deve haver algum momento em que eles gostariam de mudar".
"A maior parte da série foca no ditado 'a grama do vizinho é sempre mais verde'. Os solteiros invejam a estabilidade de um casamento, enquanto os casados invejam a liberdade dos solteiros. Nenhum é melhor do que o outro, são apenas diferentes".
E como David Spade se sente cercado de casais? Ele responde "Sim, é como a vida real".
Os tabloides americanos acreditam que há algo romântico entre Spade e Heather Locklear (ambos alegaram apenas amizade), enquanto ele admite que ser solteiro em Los Angeles é complicado. "É mais fácil ser casado. Ser solteiro nesse ramo é duro. Na série é, na verdade, mais fácil, mais engraçado. Às vezes na vida real, é complicado. Todos a minha volta são casados. Exatamente como no seriado".
A vida amorosa de Spade na vida real se encontrou com sua vida amorosa na ficção, quando Locklear foi contratada para interpretar Barbara, a irmã de Audrey (Price) na série. O primeiro episódio com a participação de Heather foi ao ar nos Estados Unidos no dia 1º de outubro e o segundo deve ser transmitido em novembro.
Quando "Rules of Engagement" estreou em fevereiro deste ano, somente 7 episódios foram ao ar, mas com boa audiência. A série, que vai ao ar logo após "Two & a Half Men", conseguiu manter boa parte da audiência dos irmãos Harper, mesmo que ambas as série tenham conteúdos diferentes.
"Rules of Engagement" estréia no Brasil em novembro, no Sony Entertainment Television.

Receba nossas publicações por e-mail:

DEIXE SEU COMENTÁRIO (VIA FACEBOOK)
Não tem Facebook? Use o formulário abaixo:
Quer ter sua foto ao lado do comentário? Cadastre-se no Gravatar!
ATENÇÃO:
Toda e qualquer mensagem publicada através do sistema de comentários não reflete a opinião deste site ou de seus autores. As opiniões enviadas através deste sistema são de exclusiva e integral responsabilidade dos visitantes que dele fizerem uso.