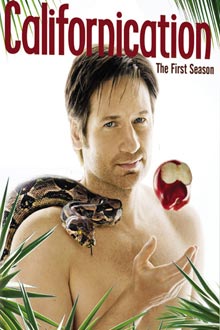 "Californication" foi uma das séries mais comentadas nos Estados Unidos em 2007. Com David Duchovny (ex-agente Fox Mulder de "Arquivo X") no papel principal do escritor decadente Hank Moody, os 12 episódios causaram comoção ao mostrar a vida descontrolada, com muito sexo e drogas, dos bronzeados californianos. Agora, o público brasileiro poderá conferir toda a primeira temporada, em lançamento da Paramount Pictures.
"Californication" tem altas doses de erotismo. Duchovny aparece em muitas cenas de sexo com a mesma cara de bom moço de sempre. Mete-se em encrencas, faz sexo com a enteada de sua ex-mulher, uma garota inteligente de apenas 16 anos e filha do cara que lhe oferece emprego. Tenta ser civilizado nos encontros em família, mas escapa para uma rapidinha sempre que pode, deixando os parentes surpresos. No segundo episódio, há uma cena forte e engraçada do personagem, bêbado, quebrando uma quadro valiosíssimo em uma peripécia sexual na cama da ex-esposa.
Fazia tempo que uma série não causava tanta polêmica. Entre os gays, a grande questão que é: como é possível falar da Califórnia sem um único personagem homossexual? Mesmo assim, Duchovny chamava a atenção e chegou a ser capa da revista gay The Advocate devido ao personagem. Nela, o ator disse reconhecer a falta de personagens gays em um seriado que se passa na indústria do entretenimento de Los Angeles – o que não reflete a realidade, mas promete resolver isso na próxima temporada.
Perguntado se Hank Moody, que sempre diz sim em questões sexuais, faria sexo com outro homem, Duchovny respondeu à The Advocate que o personagem "é sexualmente muito passivo, como um garoto que não sabe dizer não, portanto, eu o vejo fazendo, sim". Sobre a homossexualidade dele mesmo, o ator gosta de repetir uma frase do apresentador Larry Sander sobre ele: "Um terço pensa que David é gay; outro terço, que ele é bi; outro terço, não se importa com isso". Deu para entender?

Receba nossas publicações por e-mail:

DEIXE SEU COMENTÁRIO (VIA FACEBOOK)
Não tem Facebook? Use o formulário abaixo:
Quer ter sua foto ao lado do comentário? Cadastre-se no Gravatar!
ATENÇÃO:
Toda e qualquer mensagem publicada através do sistema de comentários não reflete a opinião deste site ou de seus autores. As opiniões enviadas através deste sistema são de exclusiva e integral responsabilidade dos visitantes que dele fizerem uso.