SINOPSE
Monica é uma aprendiz de anjo que é constantemente enviada à Terra para resolver os mais problemáticos casos de pessoas de todos os cantos do mundo.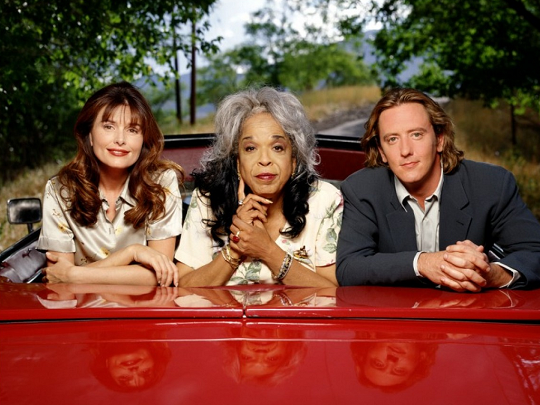 Ela vive sempre ao lado de Tess, um anjo com mais experiência que avalia as atitudes de Monica e sempre acaba a ajudando em suas missões. Além de Monica e Tess, existe Andrew, o anjo da morte, que sempre está presente quando "Deus chama" um de seus filhos, para levá-los com conforto para junto do Pai. Andrew também sempre ajuda Monica em suas decisões, estando sempre por perto.
Outros anjos que passam pela série são, Rafael, um anjo latino, Celeste, um anjo cuja personalidade é medrosa e desastrada e Gloria, que é designada para ser treinada por Monica na última temporada.
Todos os episódios trazem histórias sobre valores da vida humana, e, em alguns casos, estas acabam sendo engraçadas e divertidas de se assistir, dando aos telespectadores verdadeiras lições de vida sobre valores humanos e amor ao próximo.
CURIOSIDADES

A série foi cancelada durante sua 1ª temporada, após a exibição de apenas 11 episódios. Porém, ela voltou no ano seguinte, após a manifestação de milhares de fãs, o que garantiu mais oito temporadas para "Touched By An Angel".

No Brasil, "Touched By An Angel" recebeu dois nomes adaptados: o primeiro, dado pela Rede Globo, foi "Caiu do Céu"; o segundo, dado pela Warner Channel, foi "O Toque de Um Anjo".
ELENCO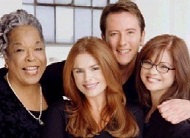 Roma Downey
(Monica)

Della Reese
(Tess)

John Dye
(Andrew)

Valerie Bertinelli
(Gloria)

Alexis Cruz
(Rafael)
MÚSICA DE ABERTURA

"
I Will Walk With You
", de Della Resse
Audio clip: Adobe Flash Player (version 9 or above) is required to play this audio clip. Download the latest version here. You also need to have JavaScript enabled in your browser.
When you walk down the road
Heavy burden, heavy load
I will rise and I will walk with you
I'll walk with you 'till the sun don't even shine
Walk with you every time
I tell I'll walk with you (walk with you)
Believe me I'll walk with you.
NO BRASIL


* Aqui estão listadas as emissoras que já exibiram o seriado no Brasil, o que não significa que, atualmente, estes canais estejam transmitindo o programa. Para mais informações clique no canal desejado e consulte o guia de programação.
VÍDEO ABERTURA