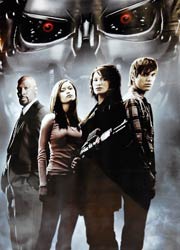 "Terminator: The Sarah Connor Chronicles", seriado de TV baseado nos filmes "O Exterminador Do Futuro", pode ganhar uma segunda temporada.
Quem garante é Thomas Dekker, que interpretou o jovem John Connor em The Sarah Connor Chronicles. Segundo ele, os produtores estão apresentando roteiros de novos episódios para o canal Fox, que exibiu os nove capítulos da primeira temporada nos Estados Unidos entre janeiro e março deste ano.
Fontes disseram para Kristin dos Santos, do canal E!, que a produção de "The Sarah Connor Chronicles" deve ser retomada em meados de junho. O canal Fox não confirmou a notícia. Declarou que a imprensa e os fãs saberão o futuro da série em maio, quando anunciará seus lançamentos para o segundo semestre.
Os direitos de exibição de "The Sarah Connor Chronicles" no Brasil foram comprados pela Warner Channel, mas ainda não há previsão de estreia.

Receba nossas publicações por e-mail:

DEIXE SEU COMENTÁRIO (VIA FACEBOOK)
Não tem Facebook? Use o formulário abaixo:
Quer ter sua foto ao lado do comentário? Cadastre-se no Gravatar!
ATENÇÃO:
Toda e qualquer mensagem publicada através do sistema de comentários não reflete a opinião deste site ou de seus autores. As opiniões enviadas através deste sistema são de exclusiva e integral responsabilidade dos visitantes que dele fizerem uso.