Depois de muita espera, a CBS definiu o futuro da sitcom "The Odd Couple", protagonizada por Matthew Perry e Thomas Lennon e da novata "Pure Genius", optando pelo cancelamento de ambas.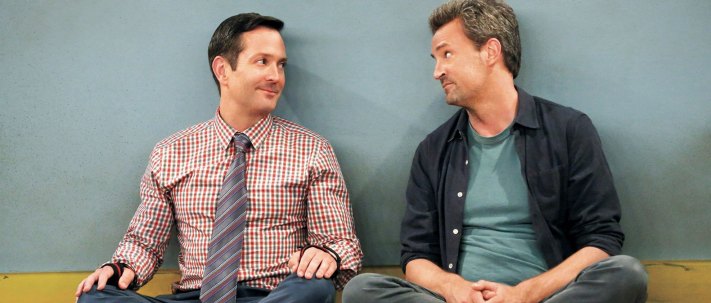 A primeira, que é um remake de uma série homônima famosa dos anos 1970, conta a história de dois companheiros de apartamento, extremamente incompatíveis: o bagunceiro Oscar Madison (Perry) e o organizado Felix Unger (Lennon). Com três temporadas reduzidas e 38 episódios produzidos, o programa não chegou a ter casa no Brasil.
"The Odd Couple" estreou como série de midseason, até que na última temporada foi transferida para a fall season, porém, continuou amargando na audiência, tendo uma média de 4,9 milhões de telespectadores por episódio. Com isso, a CBS não hesitou em terminar a atração que, segundo Matthew Perry, já estava cancelada desde abril.
My face on the Odd Couple stage door has been painted over with green paint.I think it's safe to assume that we have been cancelled.#subtle

— matthew perry (@MatthewPerry) 10 de abril de 2017
Depois que "Friends" encerrou, em 2004, Matthew Perry não conseguiu muito êxito em séries de TV. Sua primeira tentativa foi a subestimada "Studio 60 on The Sunset Strip", que durou somente uma temporada. Em seguida, o ator tentou a sorte com "Mr. Sunshine", que durou apenas 13 episódios. Depois, foi a vez de "Go On", que também foi cancelada após uma única temporada. "The Odd Couple", por fim, teve três temporadas, mas sem muita audiência.
Já "Pure Genius", narra a trajetória do Dr. Walter Wallace (Dermot Mulroney), um cirurgião brilhante que caiu em desgraça. Ele é recrutado por James Bell (Augustus Prew), um jovem milionário do ramo da tecnologia, que tem um plano ambicioso em mente: abrir um hospital para renovar a medicina e buscar a cura para as doenças mais raras e misteriosas. Com apenas 13 episódios produzidos, a audiência ficou na média dos 5,3 milhões de espectadores, números baixos para o padrão da CBS. No Brasil, fez parte da programação do Universal Channel.
Até o momento, a CBS renovou os seguintes seriados: "The Amazing Race", "The Big Bang Theory", "Blue Bloods", "Bull", "Code Black", "Criminal Minds", "Elementary", "The Good Fight", "Hawaii Five-0", "Kevin Can Wait", "Life in Pieces", "MacGyver", "Madam Secretary", "Man With a Plan", "Mom", "NCIS", "NCIS: Los Angeles", "NCIS: New Orleans", "Scorpion", "Superior Donuts" e "Zoo".
Ainda aguardam decisão: "Ransom" e "Undercover Boss". "Training Day", embora ainda sem destino oficial, já está essencialmente cancelada, dada a morte do protagonista, Bill Paxton.
Estão canceladas as atrações "2 Broke Girls", "American Gothic", "BrainDead", "Criminal Minds: Beyond Borders", "Doubt", "The Great Indoors", "The Odd Couple" e "Pure Genius".

Receba nossas publicações por e-mail:

DEIXE SEU COMENTÁRIO (VIA FACEBOOK)
Não tem Facebook? Use o formulário abaixo:
Quer ter sua foto ao lado do comentário? Cadastre-se no Gravatar!
ATENÇÃO:
Toda e qualquer mensagem publicada através do sistema de comentários não reflete a opinião deste site ou de seus autores. As opiniões enviadas através deste sistema são de exclusiva e integral responsabilidade dos visitantes que dele fizerem uso.