Os próximos episódios inéditos de "Gossip Girl", pós-greve, iniciam no dia 21 de abril nos Estados Unidos e, o primeiro capítulo da nova leva terá o título The Blair Bitch Project e será a partir dele que novas histórias e muitas reviravoltas vão acontecer, inclusive a introdução de um novo casal.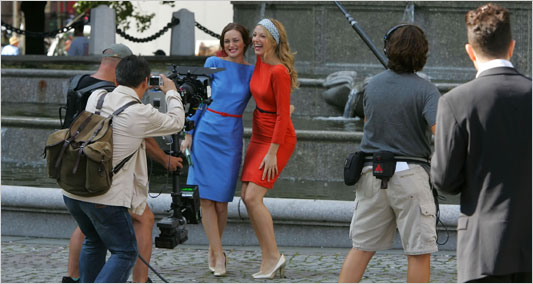 Além disso, haverá um integrante da série que, em algum momento pós-greve, deverá assumir-se gay. De acordo com os livros de Cecily von Ziegesar (que inspirou a série), tal personagem seria...
... o Dan (Penn Badgley), mas os roteiristas da série resolveram mudar o rumo da história original e, então, o novo gay de Upper East Side será Eric (Connor Paolo), o irmão caçula de Serena (Blake Lively).
Porém, as novidades não acabam por aí. Com a chegada de Georgina Sparks (Michelle Trachtenberg, "Buffy, The Vampire Slayer"), o romance entre Dan e Serena, por algum(ns) motivo(s) estará em risco (pasmem!), pois de acordo com fotos divulgadas, Dan trocará alguns beijos com Georgina (e ele não parece estar fazendo isso contra sua vontade).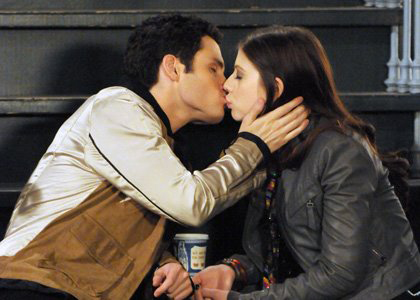 Resta saber agora o que levou o fiel e apaixonado Dan a trocar carícias com Georgina. O que se sabe é que, com a chegada dela, Serena finalmente terá seu segredo revelado, e os adoradores de fofoca de Nova York saberão, de uma vez por todas, os motivos que levaram Serena a ir embora de Upper East Side e passar um ano longe da família e amigos.
As novidades são poucas? Então fique sabendo que, além de tudo isso (e para a infelicidade de Blair [Leighton Meester]), Nate (Chace Crawford) terá um affair com Vanessa (Jessica Szhor).
Ainda não há previsão exata da estreia dos novos episódios pós-greve no Brasil, mas a Warner Channel deverá exibi-los em meados de maio.

Receba nossas publicações por e-mail:

DEIXE SEU COMENTÁRIO (VIA FACEBOOK)
Não tem Facebook? Use o formulário abaixo:
Quer ter sua foto ao lado do comentário? Cadastre-se no Gravatar!
ATENÇÃO:
Toda e qualquer mensagem publicada através do sistema de comentários não reflete a opinião deste site ou de seus autores. As opiniões enviadas através deste sistema são de exclusiva e integral responsabilidade dos visitantes que dele fizerem uso.