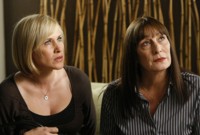 Já foi o tempo do Sony Entertainment Television estrear sua temporada de uma só vez. Após trazer novidades em todos os meses deste ano, o canal terá mais duas estreias em maio, com a chegada das novas temporadas de "Medium" e "According to Jim", além da nova produção original "Simuladores".
Na segunda, 12 de maio, às 21h, chega a 4ª temporada de "Medium". Nos novos episódios, o mundo de Allison (Patricia Arquette) e de sua família são virados de cabeça para baixo após as habilidades dela como médium serem expostas ao público, resultando em grandes mudanças profissionais e pessoais. Allison até então trabalhava meio período como consultora do promotor Devalos (Miguel Sandoval) e auxiliando o investigador Lee Scanlon (David Cubitt) nas investigações dos crimes mais misteriosos de Phoenix, no Arizona.
Uma das novidades do 4º ano da série é a participação de Anjelica Huston (foto), atriz vencedora do Oscar, como Cynthia Keener, uma investigadora de uma empresa chamada "Ameritips" que faz um acordo com Allison para utilizar as habilidades dela na solução de crimes. Huston vai participar de pelo menos seis episódios da série. A temporada terá mais convidados especiais, incluindo Steven Culp ("Desperate Housewives"), Kurtwood Smith ("That '70s Show") e Kelly Preston ("Joey"), em quatro episódios, como uma investidora que se torna sócia de Joe (Jake Weber) e acaba criando tensão no casamento dele com Allison.
A família de Patricia Arquette também terá uma presença considerável na temporada, com sua irmã Rosanna Arquette ("The L Word", e"What About Brian") participando de um episódio, como uma perigosa e atraente mulher suspeita de assassinar dois jovens homens, e seu irmão David Arquette ("In Case of Emergency") dirigindo um episódio.
Com média de 10,090 milhões de telespectadores, "Medium", que terá apenas 15 episódios na atual temporada devido a greve dos roteiristas, já foi renovada para sua 5ª temporada.
Na sexta, 16 de maio, às 20h, é a vez da 7ª temporada de "According to Jim". No episódio de estréia, Jim (James Belushi) fica furioso ao descobrir que Cheryl (Courtney Thorne-Smith) está participando de um clube de jantares festivos e decide questionar o "idiota" que inventou as mulheres. A partir daí, ninguém menos que o Todo Poderoso (vivido por Lee Majors, "The Six Million Dollar Man") aparece para se defender perante Jim.
Nos episódios seguintes, veremos Cheryl e Jim resolvendo seus problemas matrimoniais com uma guerra de comida; as mulheres da vizinhança se oferecendo para ajudar Jim quando Cheryl viaja para ajudar a mãe dela; Jim sendo preso no banheiro do aeroporto por comportamento inadequado; e a maior surpresa da temporada: após três filhos — Ruby (Taylor Atelian), Gracie (Billi Bruno) e Kyle (Conner Rayburn) —, Cheryl revelará que está grávida de gêmeos!
Atualmente uma das comédias há mais tempo no ar na TV americana, "According to Jim" quase foi cancelada na temporada passada, garantindo na última hora 18 novos episódios. Mas a série deve emplacar mais uma temporada, apesar de sua baixa audiência (média de 5,288 milhões de telespectadores), graças ao seu valor comercial e as vendas das reprises das temporadas passadas.
Outra novidade será a série "Simuladores", produção original do canal Sony, que estréia no sábado, 03 de maio, às 11h/16h. Baseada num programa argentino, "Los Simuladores", a comédia mostra quatro agentes especiais que usam suas habilidades e equipamentos de última geração para solucionarem casos para pessoas comuns. Com 13 episódios, a série começou a ser gravada em high definition no início de fevereiro no México.
E na quinta, 29 de maio, às 21h, vai ao ar o final da 7ª temporada de "American Idol", com um episódio especial de duas horas de duração. Logo depois da final o reality show deixa a programação do canal, assim como as comédias "Big Day" (já cancelada) e "Rules of Engagement" (que deve retornar em breve), a partir de 12/05.

Receba nossas publicações por e-mail:

DEIXE SEU COMENTÁRIO (VIA FACEBOOK)
Não tem Facebook? Use o formulário abaixo:
Quer ter sua foto ao lado do comentário? Cadastre-se no Gravatar!
ATENÇÃO:
Toda e qualquer mensagem publicada através do sistema de comentários não reflete a opinião deste site ou de seus autores. As opiniões enviadas através deste sistema são de exclusiva e integral responsabilidade dos visitantes que dele fizerem uso.