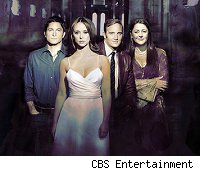 De acordo com o site SériesOnline, o canal Sony vai estrear em dezembro as novas temporadas de "Eli Stone" e "Ghost Whisperer", um mês depois do canal ter estreado novas temporadas e novas séries.
As séries, que ficaram de fora do início da temporada 2008/09 do canal, são as primeiras novidades que virão nos próximos meses. Em janeiro, o Sony terá pelo menos a estréia da nova temporada de "American Idol", enquanto em fevereiro será a vez do retorno dos episódios inéditos de "Desperate Housewives" e "Grey's Anatomy".
A nova temporada de "Eli Stone" estréia na quinta, 04 de dezembro, às 21h, ocupando a vaga do reality show "Brazil's Next Top Model".
O segundo ano da série começa exatamente de onde a história parou: o advogado e "profeta" Eli Stone (Jonny Lee Miller) fez uma cirurgia para remover um aneurisma cerebral que era o responsável pelas suas visões. Após ficar em coma, onde teve a oportunidade de fazer as pazes com Deus (na figura do cantor George Michael), Eli terá que enfrentar uma nova fase em sua vida. Será que suas visões acabaram após a cirurgia, ou ele terá que conviver com suas visões e o fato de ser um profeta dos tempos modernos?
Entre os convidados especiais da 2ª temporada estão Sigourney Weaver, Katey Sagal ("8 Simple Rules", "Married With...Children") e Gina Torres ("Firefly", "Alias"), além da tão anunciada participação de Katie Holmes ("Dawson's Creek") no segundo episódio, onde ela irá cantar e dançar.
Com média de 8,36 milhões de telespectadores, "Eli Stone" recentemente garantiu sua 2ª temporada completa, com 22 episódios.
Também na quinta, 04/12, às 22h, "Ghost Whisperer" estréia sua 4ª temporada. Os novos episódios manterão a premissa da série, com Melinda Gordon (Jennifer Love Hewitt), que tem o dom de se comunicar com espíritos e fantasmas que continuam entre os vivos devido a assuntos não resolvidos que os impedem de seguir para o "outro lado", explorando o lado espiritual da vida e da morte. Neste ano, a morte de um personagem principal promete mudar os rumos da série.
Uma das novidades na 4ª temporada é a chegada de Jamie Kennedy ("The Jamie Kennedy Experiment"), que será Eli James, um professor de psicologia da Universidade Rockland que também tem um dom: ele pode ouvir os fantasmas, mas não consegue vê-los. Kennedy chega para substituir Jay Mohr, que atualmente estrela a nova comédia "Garry Unmarried" e fará apenas participações esporádicas no drama sobrenatural, conforme já informamos aqui.
Neste ano, Jennifer Love Hewitt levou o prêmio de Melhor Atriz no Saturn Awards, prêmio dado aos melhores programas de ficção-científica, fantasia e horror, por seu trabalho em "Ghost Whisperer". Com média de 10,37 milhões de telespectadores, a série lidera seu horário de exibição nos Estados Unidos.

Assunto(s):
Participações

Seriado(s) relacionado(s):
Alias
,
American Idol
,
Dawson's Creek
,
Desperate Housewives
,
Eli Stone
,
Firefly
,
Garry Unmarried
,
Ghost Whisperer
,
Grey's Anatomy
,
Married... With Children
,
The Jamie Kennedy Experiment

Receba nossas publicações por e-mail:

DEIXE SEU COMENTÁRIO (VIA FACEBOOK)
Não tem Facebook? Use o formulário abaixo:
Quer ter sua foto ao lado do comentário? Cadastre-se no Gravatar!
ATENÇÃO:
Toda e qualquer mensagem publicada através do sistema de comentários não reflete a opinião deste site ou de seus autores. As opiniões enviadas através deste sistema são de exclusiva e integral responsabilidade dos visitantes que dele fizerem uso.