SINOPSE
Ed Goodson é um aposentado da marinha que vive reclamando de tudo. Sua rotina é alterada quando seu filho de 27 anos, Henry, o procura depois de ter perdido o emprego, na esperança de que seu pai se comova e o acolha em sua casa.
Ed tem um temperamento difícil, não tem papas nas línguas e está sempre soltando suas tiradas politicamente incorretas. Ninguém está seguro contra suas observações, o que inclui Henry e seu irmão, Vince, um corretor imobiliário que trabalha ao lado da esposa, Bonnie.
Além de tudo, Ed ainda precisa lidar com seus dois filhos brigando pela sua atenção.
CURIOSIDADES

A série foi baseada em um perfil do Twitter que atingiu mais de 1 milhão de seguidores, criado por um roteirista americano que, depois de perder o emprego, acaba indo morar com seu pai e decide twittar as frases mais absurdas e hilárias que ele fala.
ELENCO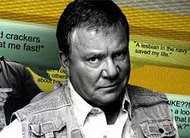 William Shatner
(Dr. Edison Milford "Ed" Goodson III)

Jonathan Sadowski
(Henry Goodson)

Nicole Sullivan
(Bonnie Goodson)

Will Sasso
(Vince Goodson)
MÚSICA DE ABERTURA

"
Your Dogs
", de Ben Folds
Audio clip: Adobe Flash Player (version 9 or above) is required to play this audio clip. Download the latest version here. You also need to have JavaScript enabled in your browser.

Don't you think you'd want to be
Just a little bit more like me?
NO BRASIL


* Aqui estão listadas as emissoras que já exibiram o seriado no Brasil, o que não significa que, atualmente, estes canais estejam transmitindo o programa. Para mais informações clique no canal desejado e consulte o guia de programação.
VÍDEO ABERTURA