Novidade na TV aberta. A Rede Record estreia a série "A Bíblia" (no original "The Bible"), atração que conquistou mais de 160 milhões de espectadores em todo o mundo, ainda inédita no Brasil. A produção é do History Channel.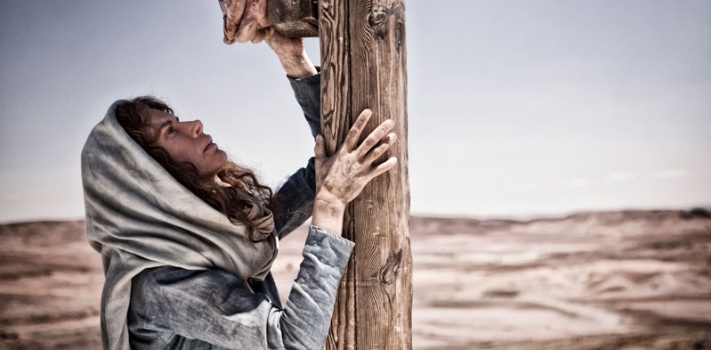 Produzida e criada por Mark Burnett e sua esposa, a atriz Roma Downey (conhecida por "Touched By An Angel"), a série explora episódios mais significativos do texto do Antigo e Novo Testamento, incluindo a jornada de Noé na arca, o Êxodo, Sansão e Dalila e a vida de Jesus, em uma grande narrativa contada através de ação e imagens geradas por computador. Além de co-produzir, Roma também atua no seriado.
"Parte do que esperava conseguir com a série era mostrar que a Bíblia não é simplesmente uma coleção de histórias desconexas que são frequentemente discutidas e analisadas em trechos com capítulos e versículos. Em vez disso, queríamos mostrar como o Antigo Testamento conecta-se perfeitamente com o Novo Testamento. Como são histórias arrebatadoras com uma mensagem primordial: Deus ama cada um de nós como se fôssemos a única pessoa em todo o mundo para amar", escreveu Burnett no jornal americano The Huffington Post.
O ator português Diogo Morgado interpreta o papel de Jesus Cristo. Este é o seu segundo papel bíblico. Antes integrou o elenco do longa-metragem "Mary, Mother of Christ", do norte-americano James Foley.
"A Bíblia" estreia no dia 16 de outubro, a partir das 21h30. Serão 10 episódios. Confira o vídeo promocional:

Receba nossas publicações por e-mail:

DEIXE SEU COMENTÁRIO (VIA FACEBOOK)
Não tem Facebook? Use o formulário abaixo:
Quer ter sua foto ao lado do comentário? Cadastre-se no Gravatar!
ATENÇÃO:
Toda e qualquer mensagem publicada através do sistema de comentários não reflete a opinião deste site ou de seus autores. As opiniões enviadas através deste sistema são de exclusiva e integral responsabilidade dos visitantes que dele fizerem uso.