Novidades chegando na TV aberta. Na madrugada de quarta-feira, dia 14 de agosto, às 03h15, o SBT estreia a série inédita "Até que o Amor os Separe" (ou "Better With You", no original). O elenco é formado pelos atores Joanna Garcia, Jennifer Finnigan, Josh Cooke, Jake Lacy, Kurt Fuller, Debra Jo Rupp e Tiya Sircar.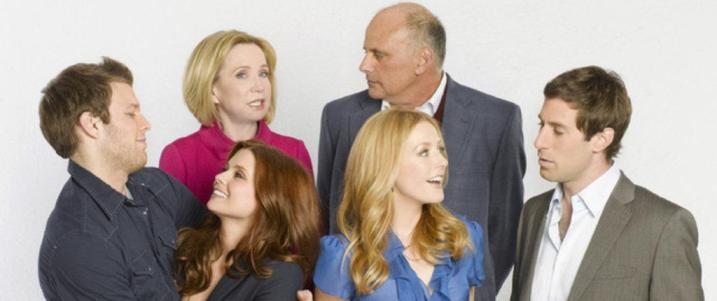 Mia (Garcia) e Casey (Lacy) estão juntos há apenas sete semanas, mas como está perdidamente apaixonada pelo namorado, ela quer apresentá-lo a toda sua família. Então ela reúne seus pais Vicky (Jo Rupp) e Joel (Fuller) e sua irmã com o namorado, Maddie (Finnigan) e Ben (Cooke), para um jantar. Maddie e Ben estão juntos há nove anos e como todo casal tem suas diferenças, e por opção própria eles nunca se casaram, apenas moram juntos. Vicky e Joel estão casados a trinta e cinco anos e já nem sabem mais porque estão juntos.
No primeiro episódio, Mia e Casey têm sua primeira briga, mas basta uma conversinha para tudo se resolver, já o mesmo não acontece com sua irmã, pois a convivência faz com que pequenos problemas virem um problemão. Para Vicky e Joel a situação é ainda pior, e uma besteira vira uma verdadeira guerra. Enquanto todos estão empenhados nos preparativos do casamento, Mia revela que está grávida.
"Better With You" teve apenas uma temporada, com 22 episódios produzidos.

Receba nossas publicações por e-mail:

DEIXE SEU COMENTÁRIO (VIA FACEBOOK)
Não tem Facebook? Use o formulário abaixo:
Quer ter sua foto ao lado do comentário? Cadastre-se no Gravatar!
ATENÇÃO:
Toda e qualquer mensagem publicada através do sistema de comentários não reflete a opinião deste site ou de seus autores. As opiniões enviadas através deste sistema são de exclusiva e integral responsabilidade dos visitantes que dele fizerem uso.