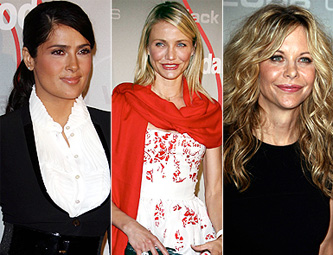 Na noite da última terça-feira, 17 de junho, aconteceu a cerimônia de entrega do prêmio Crystal Lucy Awards, evento que homenageia as mulheres do cinema e televisão, organizado pela Women in Film (WIF). A entrega dos prêmios ocorreu no Beverly Hilton Hotel, em Hollywood, nos Estados Unidos.
Diversas celebridades passaram por lá, entre elas estavam presentes Cameron Diaz, Debra Messing, Nicole Richie e Salma Hayek.
Salma brilhou e foi a grande vencedora do prêmio, por seu trabalho de produtora executiva na série "Ugly Betty", da rede de TV americana ABC. Além de produzir o seriado, Hayek participou de vários episódios durante a 1ª temporada.
"Ugly Betty" vai ao ar no Brasil pelo Sony Enterntainment Television e o primeiro ano da série terá seu final exibido pelo canal no dia 25 de junho. O season finale contará ainda com as participações especiais de Kristin Chenoweth ("Pushing Daisies"), Christopher Gorham ("Out of Practice", "Medical Investigation"), Judith Light ("Who's The Boss?"), Gina Gershon ("Snoops") e Anglica Vale ("Betty, a Feia").

Receba nossas publicações por e-mail:

DEIXE SEU COMENTÁRIO (VIA FACEBOOK)
Não tem Facebook? Use o formulário abaixo:
Quer ter sua foto ao lado do comentário? Cadastre-se no Gravatar!
ATENÇÃO:
Toda e qualquer mensagem publicada através do sistema de comentários não reflete a opinião deste site ou de seus autores. As opiniões enviadas através deste sistema são de exclusiva e integral responsabilidade dos visitantes que dele fizerem uso.