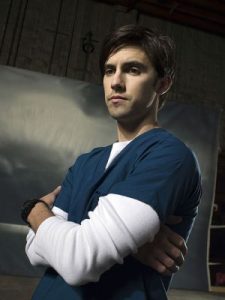 A rede americana NBC, responsável por sucessos como "Heroes" e "ER", anunciou ontem [02/04] maiores detalhes sobre sua grade de programação para a temporada 2008/2009.
Com a greve dos roteiristas que causou um grande impacto na produção de novos episódios da temporada 2007/2008, a NBC resolveu mudar o esquema e criou o chamado "Plano de 52 Semanas". Ou seja, as principais atrações não ficarão centradas somente nos meses de setembro [fall season] e de janeiro [mid season]. Além disso, o canal renovou o conceito das estréias, fazendo planos até meados de 2009 e não haverão pilotos para testes e novos nomes estrearão definidos.
Confira as séries que retornarão com uma nova temporada:
"Friday Night Lights" [que após toda uma reviravolta, conseguiu apoio da DirecTV para redução de custos para a produção de uma 3ª temporada], "Heroes", "Law & Order" [para uma inédita 19ª temporada], "Law & Order: Special Victims Unit", "ER" [15ª e última temporada], "Medium" [que até pouco tempo estava na corda bamba], "Life" [inédita no Brasil], "Chuck" e "Lipstick Jungle" [também inédita no Brasil]. Já as comédias de sucesso "The Office", "30 Rock" e "My Name Is Earl" continuarão fazendo parte das "Quintas de Comédia" do canal americano e o bom desempenho de "Celebrity Apprentice" garantiu mais uma temporada para o reality show, como já foi anunciado por Donald Trump na final, semana passada.
Confira agora o que ficou de fora da nova temporada: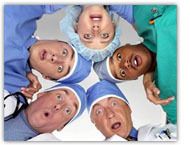 "Scrubs" recebeu uma péssima notícia ao ser cancelada pela NBC, mas é quase certo que a dramédia médica retornará para uma nova temporada na ABC. Além disso, o remake de "Bionic Woman" (que estreou no Brasil no dia 30/03, no A&E, já cancelada) não garantiu sua 2ª temporada, devido aos baixíssimos índices de audiência; "Journeyman" [ainda inédita no Brasil] também não agradou o público e foi por água abaixo. "Law & Order: Criminal Intent" ainda não teve seu futuro decidido, uma vez que os novos episódios serão exibidos nos Estados Unidos pela rede USA, parceira da NBC, e nada sobre a renovação da série foi mencionado, mas isso não significa o fim da série, pelo menos por enquanto.
E, por último, confira as novidades que o canal programou:
Algumas das novidades divulgadas pelo canal pareceram desanimadoras, uma vez que novos realities shows foram programados e shows de variedades com enredos "diferentes" foram aprovados: "Most Outrageous Moments" será um programa com erros de gravação (quem não lembra de "Bloopers", que um dia já foi exibido no Brasil pelo canal Sony?); "Shark Taggers": você sabe como é a vida de biólogos caçadores de tubarões? Não? Então com esse programa você poderá aprender um pouco mais; "Chopping Block" será mais uma [batida] competição culinária dos mesmos produtores de "Hell's Kitchen" e estrelado pelo chef Marco Pierre White; "Thursday Night Live", um tipo de spin-off [série derivada] de "Saturday Night Live" que irá ao ar nas noites de quinta durante o auge da campanha presidencial americana, com edições extras do quadro jornalístico-cômico "Weekend Update".
No novo pacote de seriados estão "Crusoe", produção que vai trazer o clássico romance de Daniel Defoe, "As Aventuras de Robinson Crusoé", em uma "adaptação de tirar o fôlego"; "Merlin" será uma co-produção americana e britânica sobre a [já conhecida] história do Rei Arthur e terá Anthony Head ("Buffy, The Vampire Slayer") no elenco; "King" contará a jornada bíblica de Davi e Golias com ares mais modernos; "The Phillatropist" será sobre um herdeiro milionário ajudando os mais necessitados, após a morte do seu único filho; "The Listener", série produzida no Canadá, terá um paramédico que pode ler mentes como protagonista; "Kath & Kim", uma refilmagem de uma série australiana sobre mãe e filha brigadas que voltam a morar juntas, que tem no elenco Molly Shannon ("Saturday Night Live") e Selma Blair.
E para os fãs de "The Office", uma boa notícia: vem aí um spin-off da série. Ainda sem título definido, a comédia acompanhará o dia-a-dia de um novo escritório, que primeiramente será apresentado na série original. Além disso, um novo remake está programado: "Knight Rider" (A Super Máquina), que sairá do papel mesmo após o fiasco causado pelo filme, exibido este ano. Tanto o spin-off de "The Office" como "Knight Rider" não estrearão antes de 2009 nas telinhas americanas. O restante vai estrear em três épocas: outono/2008, inverno/2009 e verão/2009.
Com esse pacote divulgado, parece que a NBC não espera liderar o ranking de audiência que um dia pertenceu ao canal.

Assunto(s):
Cancelamentos
,
Novos Pilotos
,
Renovações

Seriado(s) relacionado(s):
30 Rock
,
Bionic Woman
,
Chuck
,
Crusoe
,
ER
,
Friday Night Lights
,
Heroes
,
Journeyman
,
Kath & Kim
,
Knight Rider
,
Law & Order
,
Law & Order: Criminal Intent
,
Law & Order: Special Victims Unit
,
Life
,
Lipstick Jungle
,
Medium
,
Merlin
,
My Name Is Earl
,
Scrubs
,
The Listener
,
The Office

Receba nossas publicações por e-mail:

DEIXE SEU COMENTÁRIO (VIA FACEBOOK)
Não tem Facebook? Use o formulário abaixo:
Quer ter sua foto ao lado do comentário? Cadastre-se no Gravatar!
ATENÇÃO:
Toda e qualquer mensagem publicada através do sistema de comentários não reflete a opinião deste site ou de seus autores. As opiniões enviadas através deste sistema são de exclusiva e integral responsabilidade dos visitantes que dele fizerem uso.