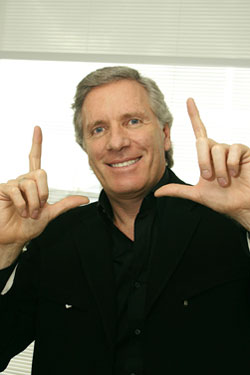 Mar, sol, hidroginástica na piscina e Roberto Justus, de topete à prova de brisa marítima, demitindo alguém em alto e bom som ao seu lado. Esse é o plus oferecido pelo mais novo pacote do cruzeiro Splendour of the Seas (Royal Caribbean) - sim, esse é o batismo oficial do barco - aos seus clientes em março. Por cerca de R$ 600 (preço do pacote para três dias), o passageiro terá direito a acompanhar a gravação de uma das provas da 6ª edição de "O Aprendiz", que estréia no início de 2009, pela Rede Record.
No lugar de shows do Rei Roberto Carlos - um dos artistas que explora bem o segmento - a viagem, que sai de Santos rumo a Búzios, traz em sua programação uma série de palestras para quem deseja "expandir seu horizonte profissional".
Justus promete distribuir prêmios durante o cruzeiro, entre eles um jantar a sós com ele e um estágio de três meses em uma de suas empresas, a agência Y&R. E, segundo o texto de divulgação do cruzeiro, haverá ainda, "antes de uma das baladas" no barco, uma noite de autógrafos com Justus.

Receba nossas publicações por e-mail:

DEIXE SEU COMENTÁRIO (VIA FACEBOOK)
Não tem Facebook? Use o formulário abaixo:
Quer ter sua foto ao lado do comentário? Cadastre-se no Gravatar!
ATENÇÃO:
Toda e qualquer mensagem publicada através do sistema de comentários não reflete a opinião deste site ou de seus autores. As opiniões enviadas através deste sistema são de exclusiva e integral responsabilidade dos visitantes que dele fizerem uso.