SINOPSE
Penelope Brewster é uma garota de oito anos, alegre, que tem como melhor amigo o cachorro Brandon. Punky, como gosta de ser chamada, foi abandonada pela mãe e precisa procurar um lugar para morar. Ela se abriga em um apartamento desocupado, até que é descoberta pelo síndico, o rabugento Henry Warnimont.
Tocado pelo carisma de Punky, o velho Henry decide tomar conta dela, enquanto procura um lar adotivo para a garota. Sem imaginar a mudança que Punky traria em sua vida, Henry toma a grande decisão de pedir a guarda definitiva de quem viria a ser sua filha.
Os melhores amigos de Punky são Cherie, que mora no mesmo prédio, junto com sua avó, a Sra. Betty; Margaux, a garota mimada e sonhadora; Allen, o garoto descontraído e desligado do grupo. E Punky também encontra no professor Mike um grande amigo e confidente.
CURIOSIDADES

No Brasil, alguns nomes de personagens foram adaptados. Henry Warnimont ganha o nome de Arthur Bicudo; a Sra. Betty vira Vó Luiza e sua neta, Cherie, recebe o nome de Cátia; Margaux é adaptada para Margot e Allen vira Júnior. E até o cachorro Brandon ganhou um novo nome e passou a se chamar Pinky.

"Punky Brewster" fez tanto sucesso que a NBC resolveu criar a versão animada. Em 1985 foi lançado o desenho "It's Punky Brewster", com os atores do seriado dublando as vozes dos personagens.
ELENCO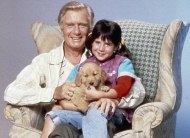 Soleil Moon Frye
(Penelope "Punky" Brewster)

George Gaynes
(Henry Warnimont)

Cherie Johnson
(Cherie Johnson)

Susie Garrett
(Betty Johnson)

Ami Foster
(Margaux Kramer)

Casey Ellison
(Allen Anderson)

T.K. Carter
(Mike Fulton)

Sandy
(Brandon, o cão)
MÚSICA DE ABERTURA

"
Every Time I Turn Around
", de Gary Portnoy
Audio clip: Adobe Flash Player (version 9 or above) is required to play this audio clip. Download the latest version here. You also need to have JavaScript enabled in your browser.
Maybe the world is blind
Or just a little unkind
Don't know
Seems you can't be sure
Of anything anymore
Although
You maybe lonely and then
One day you're smilin' again
Every time I turn around
I see the girl that turns my world around
Standing there
Everytime I turn around
Her spirit's lifting me right off the ground
What's gonna be?
Guess we'll just wait and see


"Punky!", em português
Audio clip: Adobe Flash Player (version 9 or above) is required to play this audio clip. Download the latest version here. You also need to have JavaScript enabled in your browser.
Nunca mais eu vou dizer que essa vida me aborrece
Punky!
Deixo pra você resolver só pra ver o que acontece
Punky!
A menina que ilumina
Toda vez que a gente vê
Ainda tenho muito o que aprender com você
Uma carinha que derrete, um coração de ferro
Punky!
Um jeitinho que amolece qualquer grito ou berro
Punky!
A menina que ilumina
Toda vez que a gente vê
Ainda tenho muito o que aprender com você
Vem viver comigo, vem ser meu amigo
Quero brincar com você
Na roda gigante e um cachorro quente
Quem será que vai me oferecer?
NO BRASIL

* Aqui estão listadas as emissoras que já exibiram o seriado no Brasil, o que não significa que, atualmente, estes canais estejam transmitindo o programa. Para mais informações clique no canal desejado e consulte o guia de programação.
VÍDEO ABERTURA