SINOPSE
Shawn Spencer possui misteriosos poderes de observação que foram aprimorados graças ao seu pai, o policial Henry, que desde cedo treinou Shawn para observar até os mínimos detalhes ao seu redor.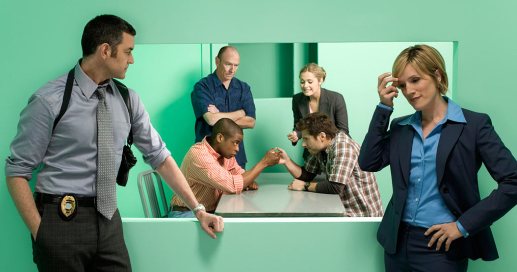 Quando Shawn é acusado de cometer um crime que na verdade ele ajudou a polícia a solucionar (ao fazer uma ligação anônima), ele convence os policiais de que ele é um médium, e com a relutante ajuda de seu melhor amigo Gus, Shawn começa a solucionar casos para a sempre cética — porém relutantemente impressionada — polícia de Santa Bárbara.
ELENCO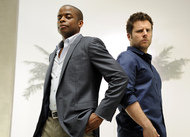 James Roday
(Shawn Spencer)

Dulé Hill
(Burton "Gus" Guster)

Timothy Omundson
(Carlton Lassiter)

Corbin Bernsen
(Henry Spencer)

Maggie Lawson
(Juliet O'Hara)

Kirsten Nelson
(Karen Vick)

Liam James
(Shawn Jovem)

Sage Brocklebank
(Buzz McNab)
MÚSICA DE ABERTURA

"
I Know You Know
", de The Friendly Indians
Audio clip: Adobe Flash Player (version 9 or above) is required to play this audio clip. Download the latest version here. You also need to have JavaScript enabled in your browser.
I know, you know, that I'm not telling the truth
I know, you know, they just don't have any proof
Embrace the deception, learn how to bend
Your worst inhibitions tend to psych you out in the end
NO BRASIL


* Aqui estão listadas as emissoras que já exibiram o seriado no Brasil, o que não significa que, atualmente, estes canais estejam transmitindo o programa. Para mais informações clique no canal desejado e consulte o guia de programação.
VÍDEO ABERTURA