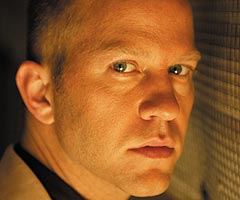 "Pretty/Handsome" é uma série inovadora, ousada e, além disso, traz no papel principal um grande ator: Joseph Fiennes ("Shakespeare Apaixonado"). Infelizmente toda essa bagagem pode não ser suficiente para que a série vá além do episódio piloto, informou o The Hollywood Reporter.
O criador do programa é o respeitado Ryan Murphy, o responsável pela polêmica "Nip/Tuck" e, para a sua tristeza, "Pretty/Handsome" não conseguiu encontrar uma casa. Após a exibição do primeiro episódio no FX, o canal decidiu não abrigar a série e, desde então, a produtora 20th Century Fox tentou vender os direitos para qualquer outro canal. Infelizmente sem sucesso.
A trama é boa: Fiennes interpreta um homem casado que, um dia, resolve abrir o jogo com sua esposa e filhos dizendo que vai mudar de sexo. No elenco há nomes conhecidos como Carrie-Anne Moss (a Trinity de "Matrix"), Sarah Paulson ("Studio 60 on The Sunset Strip"), Blythe Danner ("Huff") e Robert Wagner ("Casal 20").
Além da 20th Century Fox, Brad Pitt também produz a série, através da sua companhia, a Plan B Entertainment. Murphy, cuja obra-prima "Nip/Tuck" alcançou invejável sucesso no canal pago FX, é responsável pelo script e direção do episódio. Brad Falchuk também ajudou a escrever o piloto.
Será que alguma emissora americana vai apostar na polêmica de "Pretty/Handsome"? O episódio inicial já está disponível na internet para os interessados. Agora, para aqueles que curtiram o programa, resta esperar e torcer para que a série não fique sem teto.

Receba nossas publicações por e-mail:

DEIXE SEU COMENTÁRIO (VIA FACEBOOK)
Não tem Facebook? Use o formulário abaixo:
Quer ter sua foto ao lado do comentário? Cadastre-se no Gravatar!
ATENÇÃO:
Toda e qualquer mensagem publicada através do sistema de comentários não reflete a opinião deste site ou de seus autores. As opiniões enviadas através deste sistema são de exclusiva e integral responsabilidade dos visitantes que dele fizerem uso.