SINOPSE
Alison DiLaurentis está morta e ninguém sabe quem é o culpado por sua morte. Suas quatro amigas, antes melhores amigas, agora estão mais distantes e mais caladas, não falam sobre o que aconteceu. Afinal, quem matou Alison?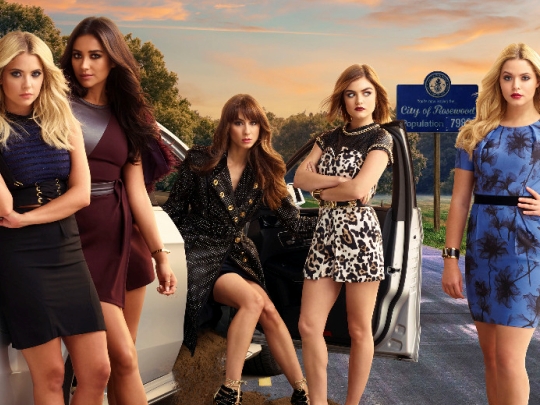 Intrigas, mistérios, suspense, emoção e desconfiança. Esses são os ingredientes que movem as vidas de Aria Montgomery, Spencer Hastings, Hanna Marin e Emily Fields, que agora estão sendo perseguidas por —A, um alguém que elas não sabem quem é, mas que sabe tudo sobre elas.
Pais separados, lesbianismo, professor namorando aluna, pequenos furtos, pressão, bullying, são algumas das situações vividas pelas liars que, agora mais próximas novamente, buscam desvendar o mistério que ronda a morte da amiga. Tudo que acontece na vida de cada uma das quatro meninas pode — e será — usado contra elas. São segredos e mais segredos até chegar, finalmente, ao culpado pelo assassinato que chocou a todos da pequena Rosewood.
CURIOSIDADES

O café "The Brew", lugar onde Emily trabalha e as garotas passam parte do tempo, é o mesmo cenário, agora reformulado, da lanchonete de Luke, de "
Gilmore Girls
".

"Pretty Little Liars" é baseada nos livros de mesmo nome, de Sara Shepard.
ELENCO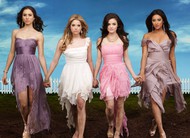 Troian Bellisario
(Spencer Hastings)

Ashley Benson
(Hanna Marin)

Lucy Hale
(Aria Montgomery)

Shay Mitchell
(Emily Fields)

Sasha Pieterse
(Alison DiLaurentis)

Ian Harding
(Ezra Fitz)

Laura Leighton
(Ashley Marin)

Janel Parrish
(Mona Vanderwall)

Tyler Blackburn
(Caleb Rivers)

Keegan Allen
(Toby Cavanaugh)

Holly Marie Combs
(Ella Montgomery)

Chad Lowe
(Byron Montgomery)

Lesley Fera
(Veronica Hastings)

Tammin Sursok
(Jenna Marshall)

Lindsey Shaw
(Paige McCullers)
MÚSICA DE ABERTURA

"
Secret
", de The Pierces
Audio clip: Adobe Flash Player (version 9 or above) is required to play this audio clip. Download the latest version here. You also need to have JavaScript enabled in your browser.
Got a secret
Can you keep it?
Swear this one you'll save
Better lock it, in your pocket
Taking this one to the grave
If I show you then I know you
Won't tell what I said
'Cause two can keep a secret
If one of them is dead?
NO BRASIL



* Aqui estão listadas as emissoras que já exibiram o seriado no Brasil, o que não significa que, atualmente, estes canais estejam transmitindo o programa. Para mais informações clique no canal desejado e consulte o guia de programação.
VÍDEO ABERTURA