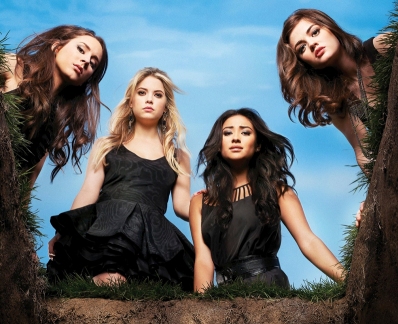 O final da 2ª temporada de "Pretty Little Liars" que foi ao ar na última segunda-feira, dia 19 de março, nos Estados Unidos, trouxe revelações bombásticas sobre quem, de fato, é "A". Se você não assistiu aos últimos episódios da temporada e não está afim de spoilers, não continue lendo a partir daqui.
No entanto, se você também tudo sobre o final da temporada, acompanhe uma entrevista de Oliver Goldstick, produtor executivo da série, ao TVLine, falando sobre a season finale:
TVLine: Eu tenho a teoria de que não conhecemos realmente quem é -A, apenas que Mona é sua mensageira. Pode confirmar?
Oliver Goldstick: Eu não posso responder completamente à pergunta, mas acho que você está perto de alguma coisa. Nós prometemos que revelaríamos quem estava atormentando as garotas, o cyberbully que as fez sofrer por duas temporadas, mas acho que sabemos que o mistério é mais profundo. É como uma cebola para nós, mantemos muitas coisas acontecendo, e é mais profundo do que parece. Continuamos dizendo que a noite em que Alison morreu é uma grande jornada, com muito mais surpresas.
TVLine: Sempre foi o plano seguir os livros e ter Mona como -A?
OG: Sabe, nunca foi algo fixo. Se você olhar para trás – e isso é para os fãs antenados – existiram muitos incidentes que teriam sido complicados para Mona – especificamente a massagem de Emily temporada passada, quando Mona estava no estábulo com Hanna. Certo, sempre dissemos que Mona tem uma mente inteligente, sabemos que é bastante esperta e deixamos muitas dicas sobre isso, mas claramente algumas coisas de -A exigiram mais do que apenas Mona. Mas também sabemos que -A tem algum dinheiro – e falamos sobre isso ano passado com o dinheiro na caixa de lasanha. -A é unha e carne com dinheiro e pode fazer coisas que outros adolescentes não. Para responder essa pergunta, acreditamos que Mona tinha uma grande motivação no momento em que começamos a série e estabelecemos isso nos primeiros episódios, certamente no flashback do piloto, quando ela foi deixada de lado por Alison e Aria. A colocamos como uma estranha tentando entrar. Sentimos que essa era uma maneira satisfatória de acabar a temporada, então você é deixado com a questão sobre como ela fez isso, e o desejo de olhar para todas essas acrobacias e avaliar se poderia ser apenas ela. E é isso que as garotas vão seguir também.
TVLine: Vocês anunciaram no começo da temporada que revelariam a identidade de -A na finale. Existe algum plano de revelar outro membro do time -A em breve? Ou isso vai ser um novo mistério constante?
OG: Sim. Vão existir ligações e conexões com outras pessoas enquanto seguimos em frente.
TVLine: Janel Parrish (Mona) nos contou que vai existir uma passagem de tempo de 6 meses no começo da 3ª temporada. Onde isso deixa as meninas em Rosewood?
OG: Mona precisa ser tratada. Ela tem sérios problemas, mas não vamos colocá-la em processos criminais. Certamente teremos um julgamento com Garret pelo assassinato de Alison. Então, Mona está sendo tratada em uma clínica, e pode retornar ao Rosewood High, acredite ou não – coisas estranhas acontecem. Algumas coisas que ela fez poderiam ser classificadas como atividade criminosa, tentativa de assassinato, por exemplo; então as garotas podem não revelar tudo que -A fez, simplesmente por que precisam de respostas.
TVLine: É possível que Garret não tenha matado Ali? O assassinato dela ainda é um mistério na próxima temporada?
OG: Sim, definitivamente, definitivamente.
TVLine: Os fãs podem esperar algum confronto entre as antigas amigas Hanna e Mona?
OG: Ah sim, existe muita coisa a tratar, e Hanna vai fazer isso.
TVLine: Ok, mas que diabos Lucas estava fazendo com Jenna no baile?
OG: Esse é um dos mistérios da terceira temporada. Pobre Lucas, ele pode ter ido ao lugar errado no momento errado há algum tempo, mas no episódio de Halloween, demos a dica de que ele e Mona tinham essa aliança comum contra Alison. Existe um lado obscuro nele. Ele é adorável, mas esse nerd tem esse lado negro correndo em suas veias. Ele está de volta na terceira temporada.
TVLine: E é seguro dizer que isso também se refere a agora visualmente intacta Jenna?
OG: Ah sim, e isso vai ser grande. A questão é se ela vai usar sua visão e como as PLL's vão descobrir isso… É muito interessante.
TVLine: Fale um pouco sobre a garota com a fantasia de Cisne Negro no baile. É uma nova personagem? Um integrande to time de -A? Ou apenas uma pista?
OG: É um pouco prematuro de minha parte dizer isso agora, mas vamos colocar dessa maneira: Você terá uma resposta satisfatória, e vai ser um pouco chocante.
TVLine: Ok. Vamos ver a talvez maldosa Melissa de volta na próxima temporada, considerando que Torrey DeVitto tem um papel recorrente em The Vampire Diaries?
OG: Ela é uma Hastings, então não dizemos adeus. Não dizemos adeus a ninguém, a não ser que encontrem seu final. Não fechamos portas, principalmente por que ela é parente de uma personagem principal.
TVLine: A morte de Maya foi propositalmente deixada no ar?
OG: Sim, não confirmamos que tenha sido ela.
TVLine: As pessoas estão prontas pra teorizar que Paige tem alguma coisa a ver com isso.
OG: Paige, não vamos esquecer como a conhecemos. (Risos) Ela tem uma certa personalidade, tadinha. Mas Page vai voltar na próxima temporada.
TVLine: É possível que a "morte" de Maya e o mistério de -A estejam relacionados?
OG: Parecem estar ligados agora. Maya sabia muito – se é que o corpo era dela. Exploramos a ideia de que existia uma mala com coisas de Alison que precisa ser devolvida a Jason, e essa mala pode conter coisas que seriam muito, muito explosivas.
TVLine: Hora de falar de alguns casais: O que acontece com Aria e Ezra?
OG: Vai existir todo um novo tipo de desafio para eles. Ezra está desempregado – e boa sorte em conseguir um emprego! (risos) Ele terá problemas. A situação com os pais dela não é bacana. Ella e Byron estão em páginas bastante diferentes, então a situação na casa de Aria vai ser pior do que você imagina na terceira temporada.
TVLine: Como estão as coisas para Toby e Spencer?
OG: Eles voltaram ao eixo – como não perdoar esse cara por tudo que ele fez, agora que sabe que foi tudo uma armação?
TVLine: E o que está por vir pra Caleb e Hanna?
OG: Eles vão enfrentar seus próprios desafios na próxima temporada.. mas ela não vai desistir de Caleb.

Receba nossas publicações por e-mail:

DEIXE SEU COMENTÁRIO (VIA FACEBOOK)
Não tem Facebook? Use o formulário abaixo:
Quer ter sua foto ao lado do comentário? Cadastre-se no Gravatar!
ATENÇÃO:
Toda e qualquer mensagem publicada através do sistema de comentários não reflete a opinião deste site ou de seus autores. As opiniões enviadas através deste sistema são de exclusiva e integral responsabilidade dos visitantes que dele fizerem uso.