Sem a mínima divulgação em cima da bombástica notícia, o canal pago Sony Spin estreia "Party of Five" em sua programação. O seriado clássico da metade dos anos 1990 simplesmente surge na grade da emissora, sem aviso, sem nenhum tipo de alarme para os fãs.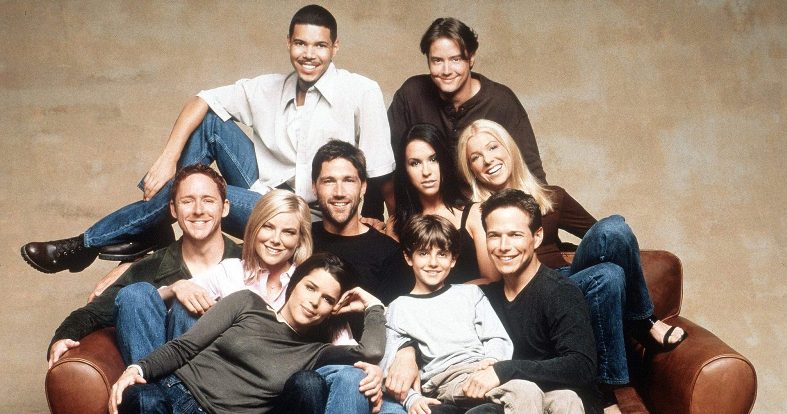 O programa conta a história de cinco irmãos que ficaram órfãos após um acidente, que matou seus pais. Charlie, o irmão mais velho (interpretado por Matthew Fox, bem antes de estourar em "Lost") precisa tomar conta dos negócios da família e lidar com seus quatro irmãos mais novos. Bailey (Scott Wolf) é alcoólatra e um dos responsáveis pelas cenas mais emocionantes das seis temporadas; Julia (Neve Campbell) é a típica adolescente, rebelde e alvo fácil de confusão; Claudia (Lacey Chabert) foi a que mais se desenvolveu durante o seriado, começou criança e terminou praticamente adulta (a forma como sua transição é abordada nos causa muita comoção); o caçula é Owen, um bebê.
Há mais de dois anos escrevi esse texto, falando de como o Canal Sony um dia prestou. Foi lá que "Party of Five" mostrou sua irreverência no Brasil. Infelizmente a série não coube mais na programação da emissora e está fora do ar desde meados de 2001. Também exibida pela Record com o nome de "O Quinteto", o programa já fez parte da extinta Rede Mulher.
E, para a insaciável alegria dos fãs (incluindo eu), a partir dessa segunda-feira, 1º de outubro, o Sony Spin (também do grupo Sony Pictures Entertainment) insere "Party of Five" em sua programação diária. Descobri o tesouro escondido quando liguei no canal na manhã de hoje e me deparei com os créditos finais. Pesquisando na internet, não encontrei nada sobre o assunto. E, verificando a programação no site da emissora, de fato, constatei que a série faz parte do pacote de seriados do Sony Spin.
"Party of Five" ganha, então, três horários de exibição: às 07h, às 19h e às 23h. Ainda dá tempo de acompanhar o episódio piloto, nos outros dois horários alternativos. Não se sabe quais serão as aspirações do canal quanto ao programa, se pretendem exibir os 142 episódios produzidos, mas me contento com o fato de que a série ganhou, novamente, uma casa no Brasil.
E, para quem não sabe, "Party of Five" gerou um spin-off: "Time of Your Life", protagonizado por Jennifer Love Hewitt. O Sony Spin também exibe esta série, diariamente às 11h.

Receba nossas publicações por e-mail:

DEIXE SEU COMENTÁRIO (VIA FACEBOOK)
Não tem Facebook? Use o formulário abaixo:
Quer ter sua foto ao lado do comentário? Cadastre-se no Gravatar!
ATENÇÃO:
Toda e qualquer mensagem publicada através do sistema de comentários não reflete a opinião deste site ou de seus autores. As opiniões enviadas através deste sistema são de exclusiva e integral responsabilidade dos visitantes que dele fizerem uso.