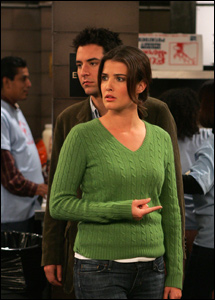 Jacoba Fransisca Maria Smulders, mais conhecida como Cobie Smulders, iniciou sua carreira como modelo, viajando a trabalho para lugares como França, Japão, Grécia. Além de ter conciliado a carreira glamourosa com os estudos, em 2000 Cobie encerrou sua vida escolar considerada uma das alunas mais respeitadas da turma e, a partir dali, sua vontade era seguir carreira como médica ou até mesmo uma bióloga marinha, sem saber que dois anos a contar daquele dia, sua vida na TV lhe renderia uma personagem fantástica.
Ao vê-la na divertidíssima "How I Met Your Mother", Cobie seria somente mais uma atriz tentando fazer seu pé de meia. Desconhecida e com participações em séries como "Veritas: The Quest", "Smallville", "Tru Calling", "Andromeda" e "The L Word", ninguém poderia imaginar que Smulders seria, mais tarde, uma atriz respeitada no mundo hollywoodiano.
O criador de "Buffy", "Angel" e "Firefly", Joss Whedon, amigo íntimo de Cobie, disse que sua amiga é uma das possíveis atrizes a interpretar a "Mulher Maravilha" no cinema. Se isso realmente acontecer, a intérprete de Robin Scherbotsky nunca mais será a mesma, já que nas telonas, ela continua desconhecida. E vamos concordar que, além da Lauren Grahan, Cobie é perfeita para o papel.
E é por sua brilhante atuação em "Mother", que Robin Sparkles (vamos ao shopping?) é uma das injustiçadas. Ao lado de Alyson Hannigan, Josh Radnor, Neil Patrick Harris e Jason Segel, Cobie se destaca e não apenas por sua beleza exótica, seus olhos claros e sua risadinha enquanto cantora do sucesso canadense dos anos 80. Seu talento é óbvio, suas expressões são cheias de emoção e, sua carreira musical, embora existente somente dentro da série, consegue mexer com os fãs assíduos do programa.
Suas particularidades na série, fazem de Cobie uma grande atriz. Coisas como ser uma grande fã de armas, usar demasiadamente a palavra "literalmente" ou até mesmo não ser capaz de contar uma mentira sem dar uma risada nervosa, são características que Cobie consegue transportar para dentro da TV, fazendo milhões de telespectadores em diversas partes do mundo se apaixonar cada vez mais por sua personagem.
E claro, não dá pra deixar de lado o seu grande sucesso canadense: "Let's Go To The Mall". Embora sua habilidade musical não seja exatamente digna de um Grammy, Smulders deu a cara ao tapa ao aceitar cantar num clipe musical para o episódio "Slap Bet". Episódio este que rendeu aos adoradores da série um evento muito interessante: os cinco tapas até a eternidade que Marshall poderá dar em Barney, já que o mulherengo achou que Robin teria feito um vídeo pornô e não um vídeo musical. "Slap Bet" foi indicado ao prêmio Emmy 2007, na categoria de Melhor Edição de Fotografia com Várias Câmeras. E, além do clipe no shopping, Cobie gravou outra música, "Sandcastles in the Sand", ao lado do eterno Dawson James Van der Beek, cujo personagem era um antigo amor de Robin na adolescência.
E embora a série tenha decaído em audiência na última temporada e a greve dos roteiristas não ter ajudado em nada, "How I Met Your Mother" tem uma grande estrela no elenco. E nada de Britney Spears ou James Van der Beek. Robin Scherbotsky é motivo suficiente para sintonizar a série e dar muitas risadas ao lado dos quatro amigos mais queridos da atualidade.
E é por isso que Cobie Smulders merecia ter sido indicada e, ficar fora da premiação, é uma enorme injustiça.
Texto produzido exclusivamente para o TeleSéries.

Receba nossas publicações por e-mail:

DEIXE SEU COMENTÁRIO (VIA FACEBOOK)
Não tem Facebook? Use o formulário abaixo:
Quer ter sua foto ao lado do comentário? Cadastre-se no Gravatar!
ATENÇÃO:
Toda e qualquer mensagem publicada através do sistema de comentários não reflete a opinião deste site ou de seus autores. As opiniões enviadas através deste sistema são de exclusiva e integral responsabilidade dos visitantes que dele fizerem uso.