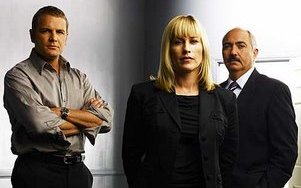 O que tem em comum "Medium", "Law & Order", "The New Adventures of Old Christine" e "Jericho"? Além do fato de todas serem séries elogiadas em seu gênero, as quatro tem também em comum o fato de estarem fora do ar desde o final da temporada passada. Os quatro shows foram renovados por seus canais, mas acabaram ficando de fora da fall season, a temporada de estréias da TV americana.
Mas agora as quatro séries já têm data para retornar nos Estados Unidos.
A NBC confirmou na semana passada a data de estréia da nova temporada de "Law & Order". O drama, o mais antigo no ar na atualidade, entrará em sua 18ª temporada no dia 02 de janeiro com um episódio duplo com duas horas de duração. A série fará dobradinha com a irmã mais nova, "Law & Order: Criminal Intent", que este ano mudou para o canal de TV paga USA, mas que com a greve dos roteiristas acaba de reconquistar espaço na TV aberta americana.
Já o elogiado drama policial e paranormal "Medium" retorna na semana seguinte, no dia 07 de janeiro, também na NBC. A série estrelada por Patricia Arquette terá ainda um reforço de peso, com uma série de participações da atriz Anjelica Huston (vencedora do Oscar® por "A Honra do Poderoso Prizzi").
A concorrente rede CBS também anunciou recentemente os retornos da sitcom "The New Adventures of Old Christine" e do drama pós-nuclear "Jericho". A comédia estrelada por Julia-Louis Dreyfus retorna com sua terceira temporada no dia 28 de janeiro; e "Jericho", que foi salva do cancelamento depois de uma agressiva mobilização dos fãs, retorna com sete novos episódios no dia 12 de fevereiro. A expectativa é que "Jericho" volte com boa audiência - além da falta da concorrência com séries inéditas, o seriado será exibido logo após o reality show "Big Brother", que pela primeira vez será exibido num mês de altos índices de audiência.
Texto publicado no site TeleSéries.

Receba nossas publicações por e-mail:

DEIXE SEU COMENTÁRIO (VIA FACEBOOK)
Não tem Facebook? Use o formulário abaixo:
Quer ter sua foto ao lado do comentário? Cadastre-se no Gravatar!
ATENÇÃO:
Toda e qualquer mensagem publicada através do sistema de comentários não reflete a opinião deste site ou de seus autores. As opiniões enviadas através deste sistema são de exclusiva e integral responsabilidade dos visitantes que dele fizerem uso.