Tentei acompanhar ao máximo as novas séries, mas ainda assim não tive a oportunidade de ver todas que me interessaram, acredito eu que as principais eu pude ver e agora posso dar a minha opinião sobre elas.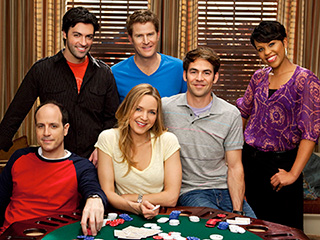 My Boys: não sei exatamente o que quiseram passar com esse enredo, acredito eu que seja para mostrar como as mulheres podem fazer parte do "universo masculino" sem necessariamente ser uma lésbica clichê. A Jordana Spiro entrou bem no papel, além daquela voz grave dela, eu me diverti com as situações. Não tenho esperanças de uma segunda temporada, mesmo porque as histórias são fracas, não mostram um retorno suficiente para renovação. Mas foi bom conhecer a Jordana, tomara que ela apareça mais vezes.
Big Day: uma série que mostra o dia do casamento? É uma espécie de "24 Horas" matrimonial, que vale somente pelas caras e expressões da Wendie Mallick. Os atores são bons, a química e tudo mais, só que a história não chama atenção at all.
Rules of Engagement: o David Spade perdeu a graça pra mim desde "Just Shoot Me!". A Megyn Price ainda está muito "Claudia-Grounded-for-Life" e o Patrick Warbutron está uma mistura de "The Tick" com "Less Than Perfect" que eu ainda não consegui definir. E o casal ex-"Dawson's Creek" não tem a menor química e não sabem fazer comédia. Apesar dos pesares, eu gostei e vou continuar assistindo, mas somente pelas palhaçadas do Jeff.
Californication: de todas, essa foi a que mais me impressionou. Séries do Showtime são sempre cheias de tabus, sexo, drogas e cenas violentas. O David Duchovny voltou com tudo nessa série. Ele é ótimo, o canalha perfeito, que ao mesmo tempo que um pilantra para com as mulheres, ele é um pai carinhoso, cuidadoso e, claro, um escritor brilhante. Mas uma coisa que me "chocou" [por assim dizer] foi a presença da Madeleine Zima na série. Seria como ver a Ashley e a Mary-Kate fazendo sexo, depois de você ter acompanhado as 8 temporadas de "Full House". A pequena Sheffiled montada no Hank foi deveras chocante. Ela como uma mulher provocante, com os seios a mostra, enfim, foi algo que mexeu comigo, porque o tempo todo eu pensava em "The Nanny". Talvez isso tenha sido um jeito de atrair os telespectadores, não sei, aquele fetiche de ver uma menininha se tornar um mulherão. A forma como são tratados os assuntos, totalmente clara e sem máscaras, inclusive quando se trata da adolescente que se assusta com a mulher nua na cama do pai que não tem pêlos na vagina. Enfim...
The Big Bang Theory: essa série eu nem conseguir enxergar o motivo para uma temporada completa. Posteriormente falarei sobre ela [ou não]. Seria um desperdício para a Kaley Cuoco?
Gossip Girl: "The O.C." reencarnou em New York? Coincidência ser o mesmo criador? Nééé, o Josh adora uma série que envolva os teens. Só acho que a atriz que faz a Serena não passa mais por uma adolescente, não tem o mesmo charme da Marissa Cooper e não é cativante. A Blair é linda, mas é uma arrogante. A Kristen Bell é boa demais para ficar somente na narrativa. Eu gostei, achei legal, tem muito o que se explorar, mas nada que a gente já não conheça, logo vai ter um viciado em drogas que precisa ir para a reabilitação, uma gravidez indesejada, uma fuga inesperada, amigos traindo uns aos outros, roubos e coisas assim. Não identifiquei ainda quem será a próxima Julie Cooper, mas percebe-se que entre a mãe da Serena e o pai da Jenny ainda rola alguma coisa e não temos um Seth Cohen característico, mas o Dan pode candidatar-se, pois vai se sair muito bem.
Pussycat Dolls: esse eu gostei. Tá, podem dizer o que quiser, mas eu curto realities shows, mas com conteúdo. Esse mesmo, por exemplo, é em busca de um sonho, há os workshops, aprendizado em cima de aprendizado, enfim, é muito interessante, só ainda não entendi o motivo da 2ª temporada, vão encher o grupo?
Carpoolers: a idéia é legal, os atores são engraçados e pode render muita coisa interessante. Não há muito o que dizer, é apenas mais uma comédia para o público masculino, exceto que trata de um ponto de vista que ninguém nunca explorou antes, que são os diáologos que acontecem quando se tem quatro homens que utilizam o mesmo carro para ir trabalhar.
Ugly Betty: essa foi a grande cartada do Sony. Eu adorei a série, sempre tive um receio de novelas mexicanas, mas essa não é uma novela mexicana, embora tenha derivado de uma. A atriz principal, America Ferrera é ótima, mereceu mesmo o Emmy. Só não achei certo o Sony trazer a série tão tarde, espero que não façam como fizeram com outras séries ou mais pra frente resolver fazer como estão fazendo com "Desperate Housewives" e "Grey's Anatomy".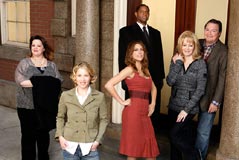 Samantha Who?: Christina Applegate sempre teve um jeito pra comédia. Mas ainda não consegui ver esse jeito dela em "Samantha Who?". A Jennifer Esposito continua com seu mesmo jeito de "Related" e o Barry Watson mal saiu de "What About Brian?" e já se juntou em outra série? Se não fosse por "7th Heaven", eu diria que ele é um pé frio.
O restante ["Cane", "Moonlight" e "Chuck"] eu ainda não vi e só tenho curiosidade de ver "Chuck".

Assunto(s):
Opinião

Seriado(s) relacionado(s):
Big Day
,
Californication
,
Cane
,
Carpoolers
,
Chuck
,
Dawson's Creek
,
Desperate Housewives
,
Full House
,
Gossip Girl
,
Grey's Anatomy
,
Grounded For Life
,
Just Shoot Me
,
Less Than Perfect
,
Moonlight
,
My Boys
,
Related
,
Rules of Engagement
,
Samantha Who?
,
The Big Bang Theory
,
The Nanny
,
The O.C.
,
The Tick
,
Ugly Betty
,
What About Brian?

Receba nossas publicações por e-mail:

DEIXE SEU COMENTÁRIO (VIA FACEBOOK)
Não tem Facebook? Use o formulário abaixo:
Quer ter sua foto ao lado do comentário? Cadastre-se no Gravatar!
ATENÇÃO:
Toda e qualquer mensagem publicada através do sistema de comentários não reflete a opinião deste site ou de seus autores. As opiniões enviadas através deste sistema são de exclusiva e integral responsabilidade dos visitantes que dele fizerem uso.