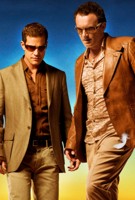 A 5ª temporada da polêmica e premiada série "Nip/Tuck" estreia na quarta, 23 de abril, às 22h, no canal FOX.
O primeiro episódio continua a partir do final da temporada passada. Após seu divórcio de Julia (Joely Richardson), Sean (Dylan Walsh) vendeu sua parte da McNamara/Troy e decidiu ir embora de Miami. Após ter terminado seu noivado, Christian (Julian McMahon) decide seguir seu amigo, e os dois retomam sua parceria na McNamara/Troy em Los Angeles.
A Dra. Liz Cruz (Roma Maffia) também se une à nova clínica para um novo recomeço em sua vida, enquanto ela se recupera fisicamente e emocionalmente de seus amores do passado. Agora morando em Nova York com sua filha Annie (Kelsey Lynn Batelaan) e o bebê Conor, Julia visita Sean e Christian em Los Angeles, levando consigo sua nova namorada. E Matt McNamara (John Hensley) e Kimber Henry (Kelly Carlson), que se casaram na temporada passada, agora têm uma filha e também se mudam para Los Angeles.
A nova temporada de "Nip/Tuck" vai explorar as dificuldades de Sean e Christian para fazer sucesso numa cidade onde eles são desconhecidos e onde os moradores desejam a fama.
Como já é costume na série, os novos episódios terão muitos convidados especiais, incluindo Oliver Platt ("Huff"), Lauren Hutton, Bradley Cooper ("Kitchen Confidential", "Alias"), Paula Marshall ("Out of Practice"), Portia de Rossi ("Arrested Development", "Ally McBeal"), Jennifer Coolidge ("Joey"), Craig Bierko ("Boston Legal"), Daphne Zuniga ("Beautiful People", "Melrose Place"), Tia Carrere ("Helic Hunter"), Jessalyn Gilsig ("Heroes", "Boston Public"), Sharon Gless ("Burn Notice", "Queer as Folk"), Jai Rodriguez ("Queer Eye For The Straight Guy") e John Schneider ("Smallville").
Além disso, Rosie O'Donnell retorna como Dawn Budge, uma mulher que ganhou na loteria, seu personagem da 4ª temporada, e Leslie Grossman ("What I Like About You", "Popular") retorna com sua personagem do 1º ano, a ex-paciente Bliss Berger.
Devido a greve dos roteiristas americanos, apenas 14 dos 22 episódios previstos para a temporada foram produzidos. Mas a série já garantiu a sua 6ª temporada.
"Nip/Tuck" continua sendo uma das séries mais assistidas do canal pago americano FX, e a estréia da 5ª temporada foi assistida por 4,3 milhões de telespectadores em novembro de 2007.
E a partir do dia 03 de março, o canal FoxLife começa a reprisar a 1ª temporada de "Nip/Tuck", de segunda à sexta, sempre à meia-noite, informou o SériesOnline.

Receba nossas publicações por e-mail:

DEIXE SEU COMENTÁRIO (VIA FACEBOOK)
Não tem Facebook? Use o formulário abaixo:
Quer ter sua foto ao lado do comentário? Cadastre-se no Gravatar!
ATENÇÃO:
Toda e qualquer mensagem publicada através do sistema de comentários não reflete a opinião deste site ou de seus autores. As opiniões enviadas através deste sistema são de exclusiva e integral responsabilidade dos visitantes que dele fizerem uso.