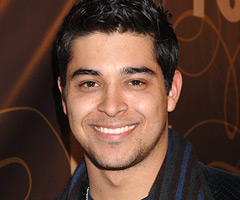 Após oito temporadas interpretando o atrapalhado Fez em "That '70s Show", Wilmer Valderrama marcará seu retorno na TV com uma nova comédia, que será produzida pela FOX americana.
"The Emancipation of Ernesto" é o nome da série de uma hora que terá Valderrama como protagonista e produtor executivo. O piloto da série, produzido pela criadora da extinta "Emily's Reasons Why Not", Emily Kapnek, contará com a produção da 20th Century Fox TV.
Wilmer será Ernesto, um rapaz inocente que, na moderna e agitada Los Angeles, fará uma busca pelo seu verdadeiro pai. O tablóide americano The Hollywood Reporter comparou o personagem de Valderrama com o de "Forrest Gump", interpretado nos cinemas pelo ator Tom Hanks.
Wilmer Valderrama é também a voz de Manny Garcia, protagonista do desenho animado "Handy Manny", exibido nos EUA pelo Disney Channel. Valderrama também participou de um episódio de "Grounded For Life", série dos mesmos criadores de "That '70s Show" e ganhou dois dos quatro prêmios que foi indicado no Teen Choice Awards, pelo seu papel como o estudante de intercâmbio Fez.
Desde "Ally McBeal" a FOX não produzia uma comédia de uma hora de duração. Bom, depende como você classificaria "Keen Eddie" (com o pé-frio Mark Valley) ou "Wonderfalls", série que lançou Lee Pace ("Pushing Daisies").

Receba nossas publicações por e-mail:

DEIXE SEU COMENTÁRIO (VIA FACEBOOK)
Não tem Facebook? Use o formulário abaixo:
Quer ter sua foto ao lado do comentário? Cadastre-se no Gravatar!
ATENÇÃO:
Toda e qualquer mensagem publicada através do sistema de comentários não reflete a opinião deste site ou de seus autores. As opiniões enviadas através deste sistema são de exclusiva e integral responsabilidade dos visitantes que dele fizerem uso.