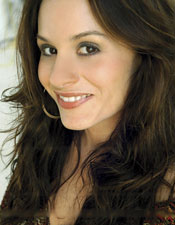 » Paula Abdul, cantora e jurada do reality show "American Idol", descartou que vai abandonar o programa que logo vai estrear sua oitava temporada, nos Estados Unidos.
Os rumores começaram, desde que os produtores do reality anunciaram a estréia de uma nova jurada, a compositora Kara DioGuardi, nessa nova temporada. "Kara veio para somar, ninguém vai sair. Estamos muito contentes que ela tenha aceitado o convite, para participar conosco do programa", disse Abdul.
» Essa é boa: Richard Hayes Stone, tio de Teri Hatcher que abusou sexualmente dela, quando a atriz tinha apenas sete anos de idade, morreu na cadeia, onde estava preso, aos 70 anos. Ele foi vítima de um câncer. Richard estava cumprindo uma sentença de 14 anos de prisão, por abusar de menores. E, graças ao testemunho de Hatcher, em 2002, que confessou que também foi molestada por ele, o homem foi condenado.
Na época em que a atriz de "Desperate Housewives" aceitou testemunhar contra o tio, ela quase desistiu, para não revelar um detalhe tão amargo de sua vida. Porém, pensou em sua filha Emerson Rose, e decidiu depor contra Hayes. Mas, no final do julgamento, o homem se declarou culpado e Teri não precisou ir ao tribunal.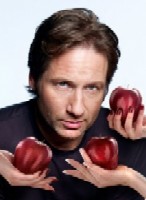 » David Duchovny se internou em uma clínica de reabilitação, para combater seu vício em sexo, segundo seu advogado Stanton Stein contou à revista People. Em comunicado, o protagonista de "Californication" disse:
"Eu me internei voluntariamente em uma clínica, para tratar de meu vício em sexo. Peço respeito e privacidade para minha mulher e filhos, enquanto atravessamos essa situação como uma família".
Duchovny, que acaba de realizar uma turnê promocional do último filme de "Arquivo X", é casado com a atriz Tea Leoni ("The Naked Truth"), com quem tem dois filhos (uma menina de nove anos e um menino, de seis). Detalhes de seu distúrbio, porém, não foram divulgados.
» É certo que Michael Phelps é um excelente nadador, mas... será que ele é engraçado? A NBC aposta que sim, tanto que convidou o atleta para participar de um episódio de "Saturday Night Live". O episódio vai ao ar nos Estados Unidos no próximo dia 13 de setembro e terá como Lil Wayne como convidado musical. No Brasil, nem mesmo o Sony deve saber quando tal episódio estreiará...
» A NBC renovou o reality show "America's Got Talent". Ainda em sua 2ª temporada no Brasil, o programa ganhará uma quarta temporada, conforme os executivos do canal anunciaram na última quinta-feira, dia 28 de agosto. A média de telespectadores do reality fica em torno de 13,2 milhões. Quem não conhece, pode acompanhar o programa pelo canal Sony, todos os sábados, às 14h.
» Para celebrar o 100º episódio de "Monk", diversos ex-convidados especiais retornam para marcar presença. Entre eles estão Eric McCormack ("Will & Grace"), Kathryn Joosten ("Desperate Housewives"), como a antiga babá de Monk; John Turturro, como o irmão dele que sofre de agorafobia (medo de estar em espaços abertos ou no meio de uma multidão); e Tim Bagley, como o arquiinimigo do detetive. Outros convidados incluem Howie Mandel, Sarah Silverman ("The Sarah Silverman Program"), Andy Richter, Sharon Lawrence e Brooke Adams. Nos Estados Unidos, o episódio vai ao ar no dia 05 de setembro.
» Patricia Heaton ("Back to You", "Everybody Loves Raymond") vai estrelar o piloto de "The Middle", nova comédia do canal ABC. A série conta a história de uma família do meio-oeste americano através dos olhos da mãe. O piloto já tinha sido produzido para a temporada 2006/07, mas a ABC decidiu investir novamente no projeto e escalar Heaton, que havia deixado o elenco da recém-cancelada "Back to You", onde trabalhou ao lado de Kelsey Grammer ("Frasier").
» O grupo Sony vai transmitir com exclusividade o "Stand Up To Cancer", especial da TV americana para arrecadar fundos para a luta contra o câncer. O programa será exibido ao vivo, direto de Los Angeles, na sexta-feira, 05 de setembro, às 21h, simultaneamente pelos canais Sony, AXN e Animax.
Entre as estrelas já confirmadas no especial estão Jennifer Aniston ("Friends"), Scarlett Johansson, Meryl Streep, David Cook (vencedor da 7ª edição de "American Idol"), Christina Applegate ("Samantha Who?"), Lance Armstrong, Jack Black, Kirsten Dunst, Charles Barkley, America Ferrera ("Ugly Betty"), Halle Berry, Hilary Swank, Forrest Whitaker, Jimmy Fallon e Keanu Reeves. As apresentações musicais ficarão por conta de Mariah Carey, Beyonce, Mary J. Blige, Rihanna, Fergie, Sheryl Crow, Miley Cyrus ("Hannah Montana"), Melissa Etheridge, Ashanti, Natasha Bedingfield, Keyshia Cole, Ciara, Leona Lewis, LeAnn Rimes e Carrie Underwood (vencedora da 4ª edição de "American Idol").
» E, pra finalizar, como já informado antes, dia 04/09, o Sony estréia a 2ª temporada do "Brazil's Next Top Model". Quem acompanha o original, "America's Next Top Model", vai ter que esperar até meados do ano que vem para ter a oportunidade de assistir ao 9º ciclo do reality show comandado pela diva Tyra Banks.

Assunto(s):
Audiência EUA
,
Escândalos
,
Novos Pilotos
,
Renovações

Seriado(s) relacionado(s):
America's Got Talent
,
America's Next Top Model
,
American Idol
,
Arquivo X
,
Back to You
,
Californication
,
Desperate Housewives
,
Everybody Loves Raymond
,
Hannah Montana
,
Monk
,
Samantha Who?
,
Saturday Night Live
,
The Middle
,
The Naked Truth
,
The Sarah Silverman Program
,
Ugly Betty
,
Will & Grace

Receba nossas publicações por e-mail:

DEIXE SEU COMENTÁRIO (VIA FACEBOOK)
Não tem Facebook? Use o formulário abaixo:
Quer ter sua foto ao lado do comentário? Cadastre-se no Gravatar!
ATENÇÃO:
Toda e qualquer mensagem publicada através do sistema de comentários não reflete a opinião deste site ou de seus autores. As opiniões enviadas através deste sistema são de exclusiva e integral responsabilidade dos visitantes que dele fizerem uso.