Renovações e mais renovações. Agora foi a vez da NBC renovar três de suas principais séries. As sortudas são "Chicago Fire", "Chicago P.D." e "Grimm", que retornam para a temporada 2014/2015.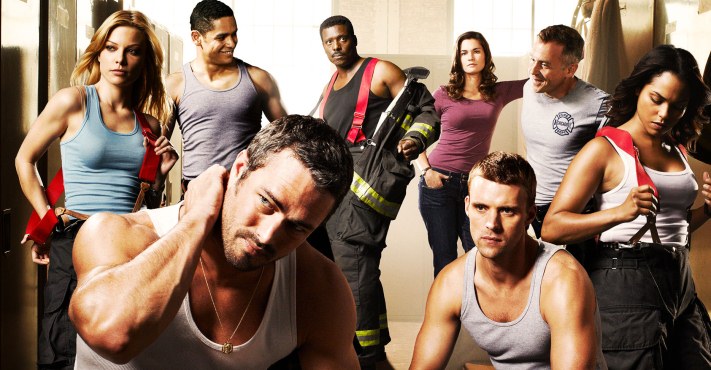 As veteranas são "Chicago Fire" e "Grimm", que garantem a 3ª e 4ª temporada, respectivamente. A novata, "Chicago P.D.", spin-off de "Chicago Fire", terá um segundo ano, até mesmo porque seus índices de audiência vêm agradando os executivos da emissora.
O canal também oficializou a renovação de "Parks and Recreation", que já tinha sido "renovada" em janeiro, quando Robert Greenblatt, o presidente da emissora, havia garantido que a sitcom teria uma sétima temporada.
Com a informação, fica faltando saber o destino de "Parenthood", "Community", "Hannibal", "Law & Order: Special Victims Unit", "Revolution" e da novata "Dracula". As sitcoms "Sean Saves The World" e "The Michael J. Fox Show" já foram canceladas, enquanto "The Blacklist" e "The Voice" garantiram seus retornos. E o resgate de "Heroes" também é a novidade da NBC, que trará a série para uma quinta temporada.
Confira aqui as renovações e os cancelamentos de suas séries preferidas.

Receba nossas publicações por e-mail:

DEIXE SEU COMENTÁRIO (VIA FACEBOOK)
Não tem Facebook? Use o formulário abaixo:
Quer ter sua foto ao lado do comentário? Cadastre-se no Gravatar!
ATENÇÃO:
Toda e qualquer mensagem publicada através do sistema de comentários não reflete a opinião deste site ou de seus autores. As opiniões enviadas através deste sistema são de exclusiva e integral responsabilidade dos visitantes que dele fizerem uso.